How to Get Coconut Oil Out of Clothes? Coconut oil is world-famous as one of the best ingredients of daily skincare, and therefore is more than likely that it could end up on your favorite blouse. Though coconut oil is safe to use on an adult or a baby, it is not good news for your fabrics. So, if you encounter this common predicament, learn how to get coconut oil out of your clothes the right way below.
If you end up here, you probably already tried by your means to remove coconut oil from clothes without success, and it is nothing to be ashamed of. Coconut oil is a tough stain to get rid of.
However intimidating as it may sound, it is not impossible either. With the right tools and procedure, you can kiss the stains goodbye for good, even old coconut oil stains. Learn how to get coconut oil out of clothes properly and go back to enjoy coconut oil the way it's supposed to.
How to Get Coconut Oil Out of Clothes
Dishwashing Liquid
Apply a thin layer of dishwashing soap across the stain.
Leave the dishwashing liquid to be absorbed into the cloth or sheets.
Set your clothes washer to the highest temperature possible, don't use cold water. Hot water will dissolve the rest of the oil.
Wash as usual and dry or air dry.
Recommended Product
Dawn Ultra has 3X MORE Grease Cleaning Power per drop so that you can get through more dishes with less.
The Dawn Non-Scratch Scrubber Sponge has a scrubber side that quickly takes off grease and baked-on messes, while the absorbent cellulose side is gentle yet mighty to get dishes sparkling clean.
A new, more powerful formula helps you get through more dishes with less dishwashing liquid.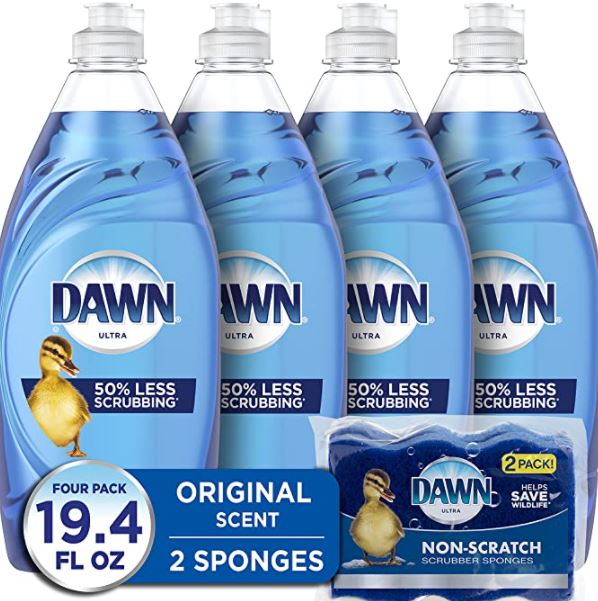 Features:
Phosphate-Free
Liquid
3x Grease Cleaning Power
---
Baking Soda & Detergent
It is best to use plain white towels to blot the excess. However, paper towels can work as well.
Press the towel against the cloth or sheets so that the towel absorbs the coconut oil.
Continue to do this until most of the oil has been blotted.
Liberally sprinkle the baking soda, arrowroot powder, or cornstarch over the coconut oil stain until it is covered.
To remove minor coconut oil stains, you can leave the powder on it for about 10 to 15 minutes.
Let it sit for about 30 minutes to an hour for significant stains.
Discard the baking soda once it begins to clump.
If you have spilled a lot of coconut oil on your clothes, you may need to add more baking soda to the stain and leave it longer.
For this part, you will need a stiff, thin piece of cardboard or an old credit card.
Press the card against the fabric and drag it across the oil stain. Repeat this until the baking soda has effectively been removed from the patch of coconut oil.
Set your clothes washer to the highest possible temperature for hot water.
Wash and dry as usual or air dry.
Recommended Product
Need to freshen up your home? Baking soda is a great eco-friendly cleaning agent that can also be used as a pet odor eliminator.
Use some carpet baking soda for your dirty rugs, or throw it in the fridge or freezer for a fresh, clean smell.
Premium baking soda also means better-tasting baked goods. This pure sodium bicarb offers a smooth texture with a neutral flavor to enjoy the best-tasting, most consistent baking results for all of your favorite homemade recipes.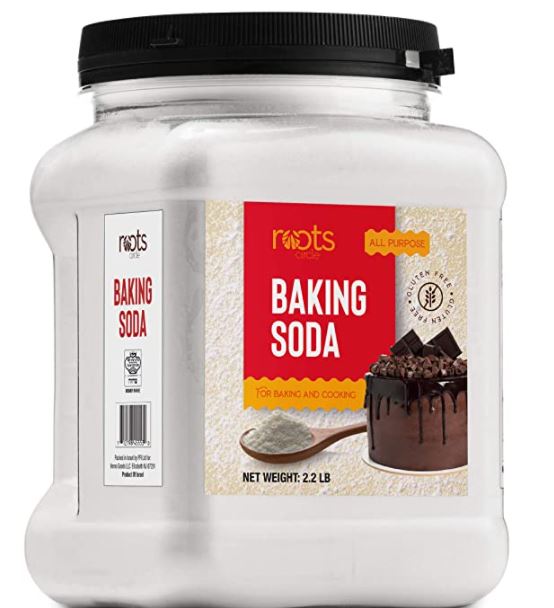 Features:
Cleaning agent
Top-quality
Pure baking soda
---
Common Questions About How to Get Coconut Oil Out of Clothes
Will coconut oil wash out of sheets?
The general process for getting rid of coconut oil stains from bed sheets involves baking soda, washing up liquid, and hot water.
If clumps form in the baking soda, repeat the process until clumps disappear. Scrape the baking soda away by rubbing the stain for a few minutes with a toothbrush.
If you happen to have stained cotton sheets, follow the following steps:
If the coconut oil stain is recent, dab off excess oil with a towel
Apply a large amount of baking soda to cover the whole stain
Let it sit for 15 minutes
If clumps form in the baking soda, repeat the process until lumps disappear.
Scrape the baking soda away by rubbing the stain for a few minutes with a toothbrush.
Soak the bedsheets in hot water with three tablespoons of washing up soap and rub
Wash the bedsheet in a washing machine at the highest temperature possible
Add a glass of white vinegar to the washing machine cycle
Dry under the sun
Once the bed sheet is dry, check whether the stain has been removed. If not, repeat the process. Do not dry your bedsheets in the dryer until the coconut oil stain has disappeared completely.
How do you get oil out of clothes after they have bees washed and dried?
Fortunately, you can remove oil stains on fabric even after it's washed and dried; it'll just require an additional step. The heat involved in a dryer cycle essentially bakes the oil into the fabric, resulting in discoloration.
So you'll need to pre-treat it again, but this time with an enzyme-based cleaner and your average pre-treatment. So treat the stain as you did the first time, let the pre-treatment dry, then use the enzyme-based treatment; finally, launder again as usual.
Does coconut oil wash out?
The answer is affirmative. Although thicker than most other liquids, coconut oil can be absorbed into the fabric. When this happens, you will notice a darkened spot where it has settled.
It should be noted that coconut oil stains are more challenging to eliminate than certain other substances. This is because coconut oil isn't water-soluble and can't be washed out.
What is the fastest way to get oil out of clothes?
Most who have faced this predicament found the best luck with WD-40, spraying it into a bowl and applying with cotton swabs, being careful not to let the oil stain through to the back of the clothing item. Then, soak up the stain using a few repeated brushings/scrubbings of baking soda, treat with dishwashing liquid, and wash and dry and usual.
How to remove old coconut oil stains?
You'll need to employ a spot remover.
Dab the remover onto the stain. Some brands may require you to dilute the solution first before placing it onto the fabric.
Use the directed amount and avoid getting the chemical on any other cloth portion apart from the stains.
Also, don't let it make contact with your skin.
Leave the product in for as long as necessary. For some brands, you will only need to let the product soak in for a few minutes to 10 minutes.
Others, however, may require you to leave it on for longer.
Never leave the stain remover in for longer than is recommended. When gone too long, some products can remove dyes from clothes.
Follow the directions and wash the remover out of the clothes. Make sure that the product has been completely removed from the fabric.
Wash the item as you usually would and dry as usual.
Additional Tips on How to Get Coconut Oil Out of Clothes
If the coconut oil stain is old and fixed, there is no point in washing it at a high temperature. Rather than doing this, it is recommended to extract away the dark ring, rub it with a coarse sponge soaked in cold water, and wash up the liquid.
The easiest way to remove coconut oil stains from sheets is by applying baking soda to the stain.
When washing, clean each batch of bright colors separately. The separation will ensure that the slight color lost from one piece of cloth does not ruin another.
It is essential to keep your washing machine clean. Stains could build up in the machine and get your clothes discolored.
Cleaning coconut oil stains is often a simple matter. Cleaning the stain as soon as possible is essential since waiting makes it stick to the cloth.
You can use any absorbent powder, such as baking soda, arrowroot powder, or cornstarch. Some people will even use talcum, baby powder, or chalk. However, food-based powders tend to be preferable.