How to Clean a Shag Rug? Don't you love your shag rug and secretly wish you could have one in every room, but you dare not because you hate to clean them? We hear you! The long, luxurious piles that give them their signature shaggy look are what we love about them, but it also makes them a little tricky to clean. If you are a shag rug owner, you must know how to clean a shag rug the right way.
Due to their long fibers, shag rugs can hold dust and dirt particles deep inside the rug. It might sound tricky to clean them compared to other rugs, but it is also not impossible. Once you get the hang of it, cleaning them won't be a problem.
Shag rugs feel soft underfoot and look great with various décor; whether you place yours in the living room, den, or family room, a lush shaggy rug makes a great and stylish accessory in every room. So if your shag rug has started to look dingy, it might be a good time to refresh it. Make your rug look its best by learning how to clean a shag rug.
How to Clean a Shag Rug
Method 1: Spot Clean Method
For spills, spot cleaning works best. The key is to act quickly before the stain sets.
Tools:
White towel (for wet stains)
Water
Mild dish soap or detergent
Soft bristle brush
Directions:
Using the towel, immediately blot the spill. If the spill is a colored liquid, dilute it with water to desaturate the color.
Mix water with a squirt or two of soap.
Dip the bristle brush in soapy water and gently scrub the area using circular motions. Repeat as necessary.
Rinse with water and allow it to air dry.
Recommended Product
This irresistibly delicate and wooded scent is as inviting as freshly laundered sheets, dried with an outdoor breeze. Swish dishes clean with this biodegradable formula featuring naturally-derived cleansing agents and fragrances that blooms in water.
Fortified with comfrey extract to soothe and lemon balm extract to help tone, it's "so long, dishpan hands."
Fill your sink with moisturizing bubbles that cleanse. Botanicals inspire Thymes in art and nature to create refreshing fragrances.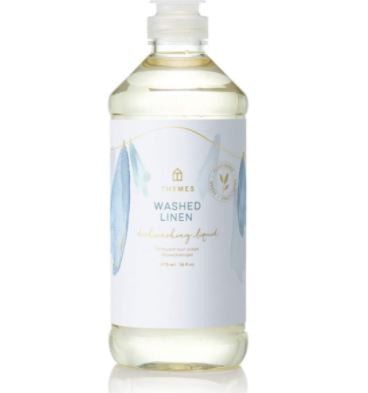 Features:
Effective
Gently
Cruelty-free
Free of parabens and petrolatum
Method 2: Dry Bath Method
Tools:
Dry carpet shampoo
Soft bristle brush
Directions:
Vacuum the rug.
Sprinkle the dry shampoo into the rug. (It is best if you take your rug outside)
Using a bristle brush, gently work the shampoo into the fibers.
Allow it to sit for the recommended period noted in the manufacturer's instructions, usually about 10+ minutes.
Either vacuum or shake the dry shampoo out of the rug.
Recommended Products
Carpet Miracle performs miracles on dirty carpets by making them look brand new, smell incredible, and feel soft once again.

Carpet Miracle was created with your kids and pets in mind! This shampoo formula is biodegradable, non-toxic, and scented with essential oils.

This advanced formula is specifically designed with all water-based carpet cleaning machines and carpet steam cleaners.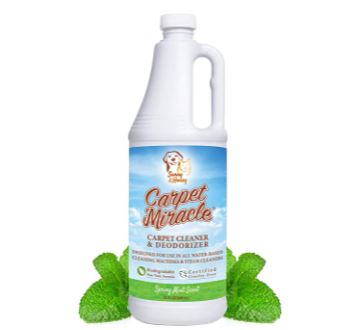 Features:
Carpets & Rugs
Car Upholstery
Home Furniture
The brushes feature non-slip comfort grips, lightweight, ergonomic designs, and protective rubber bumpers. Keeping the interior leather and fabric upholstery surfaces clean helps prevent undue wear and tear, so regular cleaning is necessary.

The non-slip grip and soft scratch-free bristles of the Mother's Leather & Upholstery Brush will help one keep the interior clean by loosening dirt and debris.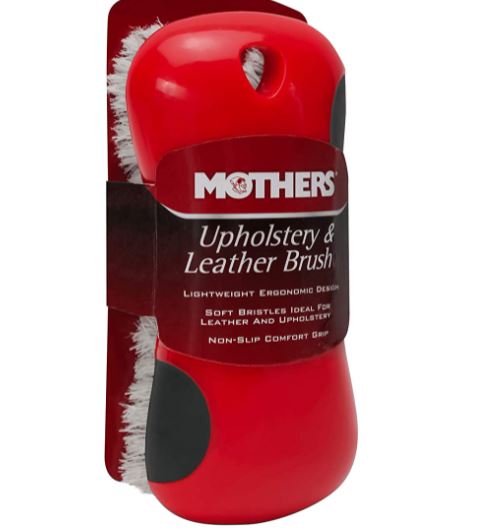 Features:
Non-slip comfort grips
Lightweight, ergonomic design
Protective rubber bumpers
Method 3: Steam Clean Method
Tools:
Vacuum
Steam cleaner
Recommended cleaner
Directions:
Always start with a freshly vacuumed rug.
Add the water and cleaner to the steam cleaner as recommended and run it over the rug until all the stains and discoloration disappear.
Allow it to air dry, preferably in the sun.
Recommended Product
The NEAT steam cleaner is an efficient, ultra-reliable do-it-all cleaning and sanitation solution. Designed for performance, ease of use, and durability, this steam cleaner delivers the cleaning power of much larger professional units.

It can easily remove dirt, grease, and stains while eliminating 99.9% of bacteria, viruses, pathogens, bedbugs, mold, and other undesirables from any type o furniture, toys, kitchen appliances, car interiors, grout and tiles, bathrooms, and more.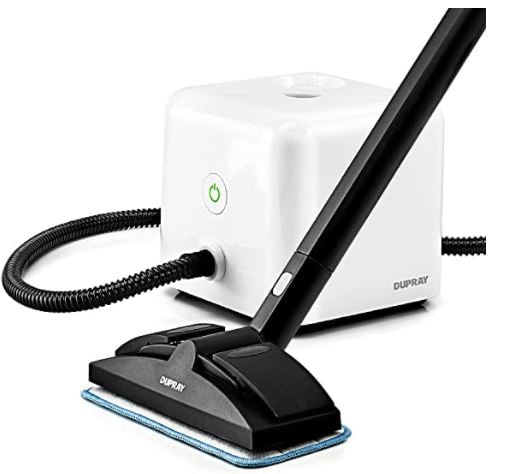 Features:
Built-in funnel
Retractable handle
Lightweight
Portable
Built to last
Method 4: Hand Wash Method
Tools:
The tub or other area to wash the rug
Mild detergent
Soft bristle brush
Directions:
Start with a freshly vacuumed rug.
Fill the tub with warm water.
Add a capful of detergent or more if the rug is large.
Place the rug in the water and allow it to soak for about 10 minutes.
Using your hands and the brush, gently remove the fibers' stains.
Try to wring out as much water as you can.
Allow the rug to dry.
What are the types of shag rugs?
Flokati Rugs
Flokati shag rugs are a type of handmade wool rug made traditionally in Greece. These shag carpets are usually white or cream, but you can also find them dyed in multiple color schemes. Mostly, they are 100% wool, including the rug backing. Flokati rugs are one of the fluffiest types of shag rugs you will find in the market.
Wool Shag Rugs
There are two main types of wool shag rugs: noodles and shaggy. Their thick wool fibers are in the shape of noodles. This feature makes them feel very soft and look luxurious. The fibers in the shaggy rugs are much thinner and closer together than those in the noodle area rug.
Leather Shag Rugs
These shags are somewhat easier to clean than others are because you can use a leather cleaner on them. These rugs, however, can be pricey based on the brand and quality of leather, and they are not pet-friendly.
Acrylic Shaggy Rugs
Cleaning them is also easier, like leather shags. You can also wash them frequently if necessary. However, these are highly flammable.
Synthetic Shaggy Rugs
Although synthetic shag rugs are not the highest quality, they can be somewhat easier to clean because, unlike wool, they can handle a steam cleaner.
---
Common Questions Regarding How to Clean a Shag Rug
Is a shag rug easy to clean?
The shaggy fibers make cleaning them a little trickier than other types of rugs. The long fibers can hold dust and dirt particles deep inside the rug's pile. Cleaning shag rugs does take a little more effort, but it's easy once a routine is established.
How do you make a shaggy rug fluffy again?
A helpful strategy for returning fluff to your shag rug is to place an ice cube on those areas that have been pressed down by furniture or for other reasons. To do this, follow the steps below:
Place the ice cube onto those dented areas and let it melt entirely over time.
Next, gently blot the wet area with a clean towel until all the liquid has been absorbed. You want to avoid pushing the towel into the carpet because this will worsen the indentation. Instead, gently block the area to remove the moisture.
Then, you can run a spoon against the carpet in the intended direction to make that shaggy rug fluff right back up like new.
How do you clean a matted shag rug?
For formatted or dirty shag rugs, the excellent idea is to use dry shampoo and a rug brush. Some shag rugs can also be hand washed in a bathtub with warm water and detergent, but read the label first. If it is safe to do so, let the rug soak for at least 10 minutes, clean it with a rug brush, rinse well, and air dry.
How do you vacuum a shag rug?
It's a given that a significant step in doing a good cleaning job is to be thorough and effective in vacuuming. When vacuuming, it's essential to ensure that your vacuum operates at optimal capacity. That means you're emptying the bag and replacing filters frequently. Once you have a fully functioning and powerful vacuum, you want to thoroughly vacuum the area going over each space as much as seven or eight times. Don't forget to use extenders to get the corners and hard-to-reach places.
Vacuum a shag rug as needed, which may be weekly on average, daily if it's used every day by children or pets, or monthly if it's rarely walked or played on.
Set the vacuum's cleaning head to a high pile if your vacuum cleaner has this option. If the cleaning head isn't adjustable, you may want to invest in a vacuum with such an option to help control suction and make the head glide more easily.
Suction out the dirt thoroughly. Dirt left to grind at a carpet's fibers will cause them to break down or wear out. Do not use the vacuum beater bar or powerhead on a shag rug. The whirling action can snag, pull or tear out strands.
Flip over your rug to expose its woven underside. Vacuum this surface monthly or as needed, using the vacuum's beater bar to remove more dirt. Stand on one edge of the rug and push the vacuum head away from you to help keep a small rug from being sucked into a powerhead. If the suction is too strong, do not use the powerhead.
How to prevent dirt and spills on shag rugs?
Place your fluffy shaggy rug in low-traffic areas.
Make strict rules at home to keep your shag safe from harm. No one should walk on it with shoes on, throw trash on it, or eat around it.
Keep the floor beneath it clean and dust-free.
Additional Tips on How to Clean a Shag Rug
Always check your shag rug's label before cleaning.
Shake your rug often, but also don't forget to vacuum with a rake, upholstery attachment, or another suitable attachment.
Try a simple mixture of warm water and white vinegar if you prefer to use homemade cleaning methods. Add the mixture to a spray bottle and spray directly onto the spill or stain. It is best to start with just a few spritzes, adding more if necessary.
Simple but effective, a good shake can immediately free your plush rug from debris and dust. Even better, it will prevent grime from accumulating into the fibers and make maintenance easier if you do it daily. A small rug is easy to shake a few times by hand, but you will need a beater for a larger shag carpet.
Treat older stains directly with a specialized dry stain-removing agent. Some classic natural homemade cleaners like water+white vinegar or water+liquid soap+vinegar should be enough to handle fresh staining.
Invest in a few white microfiber cloths. Microfiber cloths are preferable to rags because they won't leave loose fibers when cleaning.
If the instructions on cleaning shag rug are unclear, it is best to play it safe and have it cleaned by professionals.