How to Wash a Sherpa Blanket without running it? Sherpa blankets are world-famous for being super soft, snuggly, and lightweight, making them the perfect choice for snuggling under during freezing winter nights. If you want to make the most out of your favorite sherpa blanket, and chances are you do, then you should worry about learning how to wash a sherpa blanket the right way.
In addition to its comfy and snuggly qualities, sherpa fabric has wicking properties similar to cotton fabric, making it a safe alternative for baby blankets. You can even use it to keep your furry best friends cozy. As you can see, Sherpa has several uses, and there's probably one sherpa blanket sitting somewhere at your home right now.
Now, despite how it may sound or what you think, washing your sherpa blanket doesn't need to be complicated. You do need to use the proper tools and be mindful of the correct procedure. After all, you want to make sure your sherpa blanket stays with you for a long time, not trying to ruin it. Learn everything you need to know about how to wash a sherpa blanket properly.
How to Wash a Sherpa Blanket
Machine Wash
Set your washing machine to a delicate or gentle cycle. Depending on the model of your device, you may also find this setting called "permanent press."
If possible, select the cold water option as well.
Put your blanket into the washing machine, but do not add any other items, such as clothing or bedding. Extra bulk in the washing machine will cause increased friction on your blanket, leading to many tiny, annoying pills! Plus, non-dye fast items could bleed color onto your blanket.
Add a gentle, liquid type of detergent. You do not want to use a fabric softener, which could cling to the synthetic fibers and cause matting. Likewise, you don't want to use powdered detergent, which could stick to the blanket instead of dissolving.
Lastly, please turn on the washing machine and allow it to run through its regular cycles.
Recommended Product
Have peace of mind with Tide Free & Gentle Liquid Laundry Detergent that will keep your clothes brilliantly clean and your family's skin safe.
Tide Free and Gentle is a powerful hypoallergenic laundry detergent that is free of dyes and perfumes. It removes more residue from dirt, food, and stains than the leading Free detergent.
Measure with cap. For medium loads, fill just below bar 1. For large loads, fill just below bar 3. For HE full loads, fill to bar 5. Add clothes, pour into dispenser, start washer.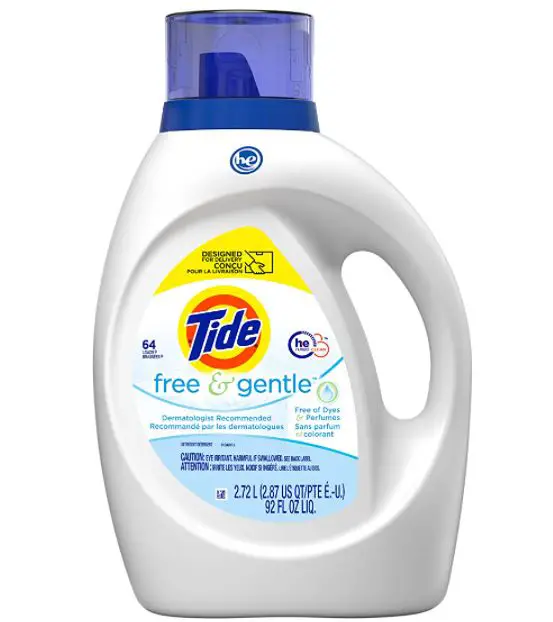 Features:
Hypoallergenic
Free of Dyes and Perfumes
Liquid
---
Hand Wash
Fill your clean bathtub, a large basin, or your kitchen sink with cold water. Warm or hot water could damage the fleece.
Submerge the blanket in the cold water. Swish it around with your hands to ensure the fabric gets wet.
Add just a few drops of a gentle laundry detergent to the water. Stir the soap into the water with your hands to create soapy foam.
At this stage, push the blanket folds through the water with both hands to expose all the fabric to the soap. You don't want to squeeze or rub the blanket too much. Just tug it through the water gently.
Drain the water away and allow it to air dry.
Recommended Product
Perfect for icing beverages, washing dishes, and outdoor uses, such as camping, BBQ, and campsite clean-up.
Non-slip design at the bottom, keeping the dishpan steady and firm. It is user-friendly by simply pop-up to open when using and to collapse to flat for space-saving.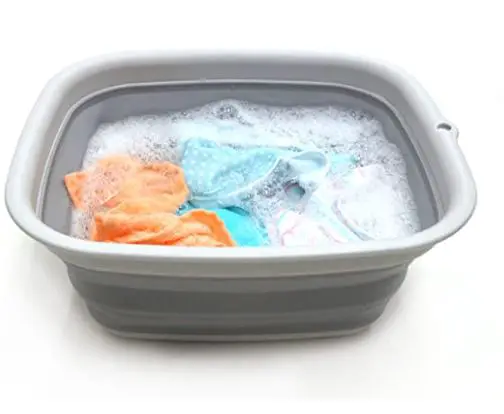 Features:
BPA Free
Rectangular
Non-slip design
---
Common Questions About How to Wash a Sherpa Blanket
What is a sherpa blanket?
Sherpa blankets typically have contrasting textures on each side, one that resembles fluffy sheep's wool and the other a smooth knit. Most of these blankets contain polyester or a polyester blend.
This style of fleece blanket is meant to resemble the traditional clothing once worn by the Sherpa people of Nepal. Sherpa blankets provide all the softness and snuggle you could look for in a blanket. This kind of fleece often gets called the plushest of all types of fleece.
The sheep's fleece-like side has fine, brushed fibers that trap body heat and provide excellent warmth as well. Plus, these blankets usually come in a lightweight fleece that might weigh as little as 2 pounds.
Are there any downsides to sherpa
blankets?
The only downside you might discover about these blankets is that proper care can cause them to mat, pill, or generally look squashed.
How do you wash a sherpa blanket without ruining it?
You can clean your sherpa blanket using cool water, gentle laundry detergent, dish soap, or most non-chlorine laundry products. If possible, hang up the blanket to air dry instead of exposing it to the heat and friction of the dryer.
How do you keep the sherpa blanket from matting?
Keeping the cycle on the gentlest setting available will prevent matting and shedding. Use dish soap instead of your regular detergent to further protect the fabric. Synthetic fragrances, softeners, and bleach are too harsh for Sherpa. They can break the fibers down and cause more shedding.
How do you keep sherpa blankets fluffy?
Vinegar is one of the best ways to make your Sherpa blanket soft again and keep it fluffy. Vinegar is beneficial for odor and stain removal, but this household item also effectively loosens clumps of fibers. Use it in the washing machine to restore a coarse and clumpy Sherpa blanket.
Are sherpas machine washable?
Yes, you can. You may have to do a little prep work on your machine and the fleece sherpa clothing item, but a washer can ensure you get all the dirt out. One of the keys to cleaning a sherpa in the washing machine is to use mild laundry soap. Harsh cleaners are not good and may react with the polyester fibers that your Sherpa is made from.
Also, it would help if you watched the water temperature. You do not want to use a high temperature to melt the polyester fiber your Sherpa is made from. If you are washing blankets, you want to stop the spin cycle about 1 minute after the machine has started spinning. Doing this will protect your blankets from becoming stretched out of shape.
How to remove stains or spots on your sherpa blanket?
Blot the stain with a clean paper towel. This will soak up any excess moisture if the stain is still wet. Try not to rub; gently pat the blanket with your paper towel.
Apply just a couple of drops of dish soap to the stain. Again, gently pat the soap with another clean paper towel to let it settle into the fibers.
Rinse the stained area under cool, running water.
As this area dries, you may see it settle into a flat, matted mess. No worries! You can fix this by following the pretreatment with a cycle in your washing machine.
Recommended Product
How to Wash a Sherpa Blanket using Mrs. Meyer's Clean Day liquid dish soaps is specifically made to make grease disappear while also providing a unique, singular scent for your entire home.
Lemon Verbena dishwashing liquid has a light, refreshingly mild citrus scent. This tender herb blossoms in early summer and smells bright and new through and through.
The dishwashing liquid contains plant-derived cleaning ingredients that keep dishes clean and bright. Made without parabens, phthalates, or animal-derived ingredients, and always a cruelty-free dish soap.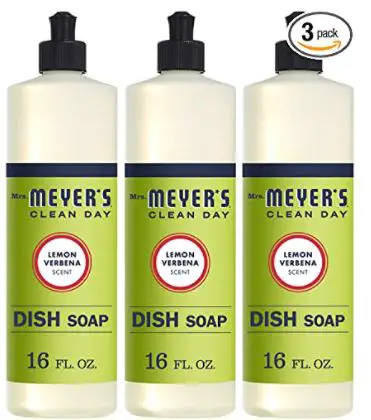 Features:
Liquid
Lemon Verbena Scent
Biodegradable
Additional Tips on How to Wash a Sherpa Blanket
Sherpa items take a little more care because they are not always made from natural fabrics. They are made from manufactured products like recycled plastic and can melt if washed incorrectly.
Separate your fabrics into bright and dark colors, just like you would when washing regular clothes, and use cold water.
Special precautions such as using only dye-free and scent-free detergent will help prevent matting on the fleecy side of the fabric.
High heat, harsh chemicals, and sustained friction can cause damage to sherpa fabric. This material should never go in a dryer in everyday settings. It might scorch, melt, or get irreversibly matted under these conditions.
Also, you should use cool water instead of hot water or warm water for both, and rinse the cycle if you use your washing machine.
Finally, avoid using any bleach on this kind of fleece. In dire circumstances, you can apply a non-chlorine bleach and instantly rinse it out, but even this could negatively impact the texture of the fleece.