How to Clean Suede Jacket? What to do when your favorite suede jacket is dirty, and now that you'll be needing it for your upcoming date, you aren't sure how to clean it? First, you ought to know that suede is a particular fabric, which often requires careful handling. The reason why we'll be covering everything you need to know about how to clean a suede jacket.
Suede coats are soft, luxurious, and usually quite pricey. Compared to full-grain natural leather, suede is more pliable, cooler, breathable, and lends itself to more design choices. If you are a suede lover and want to make sure you don't ruin your favorite suede clothes, then learning to clean a suede jacket is an ability you should master.
But do not panic just yet; while cleaning suede requires special attention, it isn't hard at all. With the proper tools and the correct procedure, you can have your suede jacket looking as good as new in no time. Without further ado, discover the steps you must take and more valuable tips about cleaning a suede jacket.
How to Clean Suede Jacket
How to clean a suede jackets is not that hard, when you have the right products and how the right steps, here are some if the best products to get the job done:
Suede Eraser
Applying a little pressure, rub the eraser on the stain.
Using an eraser is a slow process, so you must be patient to prevent ruining the suede.
While a suede eraser is best, you can also use a pencil eraser if you cannot find a suede one.
Never use a pink eraser as it may dye your suede. If the eraser doesn't work, carefully rub a nail file across the dry stains to help loosen up the dirt.
Recommended Product
Eraser serves for the removal of stains on suede and nubuck car seats, furniture upholstery, garments, boots, shoes, and leather clothing.
The eraser is ideal for removing crusty stains. It removes dirt gently while not affecting the leather surface.
The eraser is also effective against dirt on more complex surfaces (such as shoes) and sleeve/collar edges of leather clothing.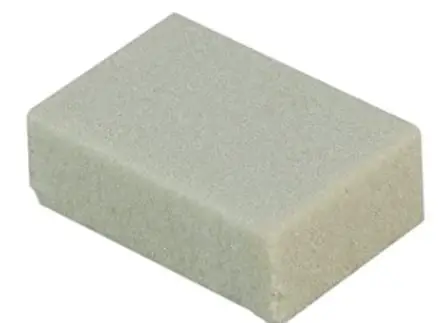 Features:
Long-lasting
Multi-purpose
---
Cornstarch
Use cornstarch to remove sweat or oily stains from suede items.
Sprinkle the stain with a thin layer of cornstarch.
Allow cornstarch to sit on the stain overnight or for several hours.
Later, use a suede brush to remove the cornstarch.
The cornstarch soaks up the sweat or oil.
Recommended Product
To thicken stews, soups, or gravies, mix with cold water to prevent clumping, then slowly stir into hot liquid, boiling and stirring for one minute.
Its ability to absorb moisture makes it an ideal ingredient in DIY deodorants, together with baking soda and coconut oil. Use it to keep athletic shoes dry between workouts too.
It may be used to remove oil stains, blood stains, and excess dirt from fabric and fur. Applied topically as a paste, it may help relieve skin irritation and relieve bug bites.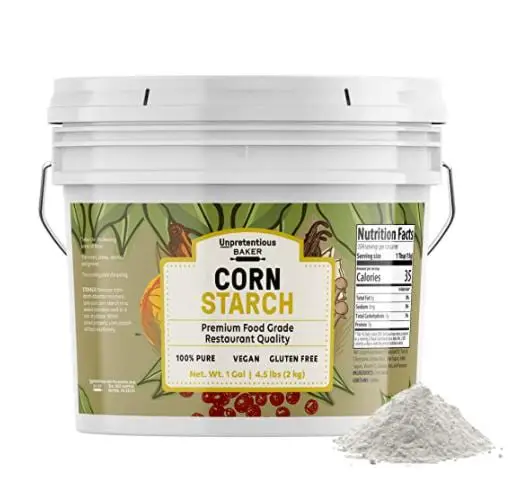 Features:
Aluminum-free
Gluten-free
All-Natural
---
Baking Soda
For some oil and grease stains, use a clean rag to blot up excess oil or grease.
Sprinkle the stain with baking soda or talcum powder to start absorbing the stain.
Brush off powder after an hour and sprinkle with new powder.
Continue this process until the powder no longer changes color.
Restore your suede's nap with your suede brush.
Recommended Product
Baking soda is naturally aluminum-free. Perfect for use in your recipes and naturally gluten-free to boot.
Safely remove tough stains in the bathroom. Use it on sinks, showers, toilets, counters, tubs, tile, grout, and more. Add one cup to a load of laundry for cleaner, fresher clothes.
It's just pure sodium bicarbonate with no additives and no fillers. Combine with citric acid to make your fizzy bath bombs.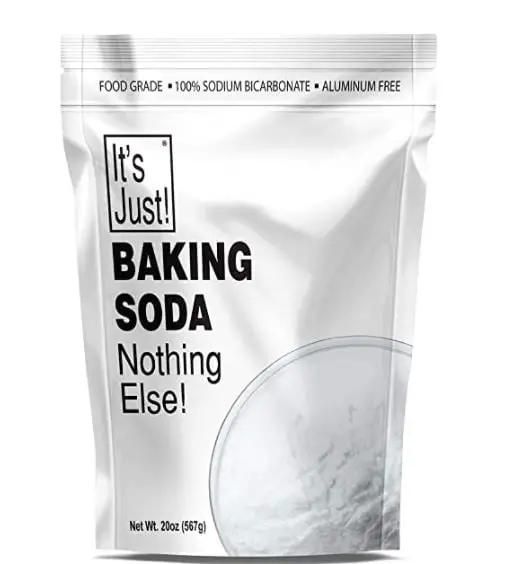 Features:
Gluten-Free
1.25 Pounds
100% Sodium Bicarbonate
---
Common Questions RegardingnHow to Clean Suede Jacket
Can I wash a suede jacket?
Suede should always be dry cleaned, but although it is possible to wash a suede jacket successfully, there will always be a chance that the jacket will be damaged. Your best chance of success is to hand wash the jacket gently in cool water with a mild detergent.
What is the best way to clean suede?
Use white vinegar or rubbing alcohol for general stains. Pour a little bit of white vinegar or rubbing alcohol onto a washcloth, gently rub the stained area, then let it totally dry before reassessing. If the stain is gone, use a suede brush to retexture the treated area.
Is it OK to put suede in the washing machine?
Suede is leather that has been chemically or physically abraded to produce a napped finish. Most manufacturers do not recommend washing suede in a washing machine; however, it is possible to wash it in a washing machine as long as you do not choose that method often.
What can I use to clean suede fabric?
Several household products can be used to clean suede fabric including, vinegar:
Rub the suede gently with the towel.
Remove dry stains with the pencil eraser.
Brush over the suede with the suede brush.
Apply a little bit of vinegar to the stains.
Gently scrub the stains with the dry cloth and let the suede air-dry
Should I use a suede brush?
When doing general cleaning, you can use a suede brush and brush the entire surface of your jacket. This will fluff up the nap, which improves the overall look of your suede while also loosening dirt or debris on the surface. Loosening up the fibers with the brush will also make removing embedded stains easier.
Recommended Product
The Shacke suede and nubuck leather brush cleaner were made to find the perfect balance to fiercely clean your suede/nubuck material while being gentle at the same time, so it does not damage it.
Nylon bristles are used for a lighter, gentler cleaning on light scuff marks for thin fine suede/nubuck.
Whether it's shoes, boots, jackets, coats, or even furniture, our 4-way brush is the only brush you will ever need again.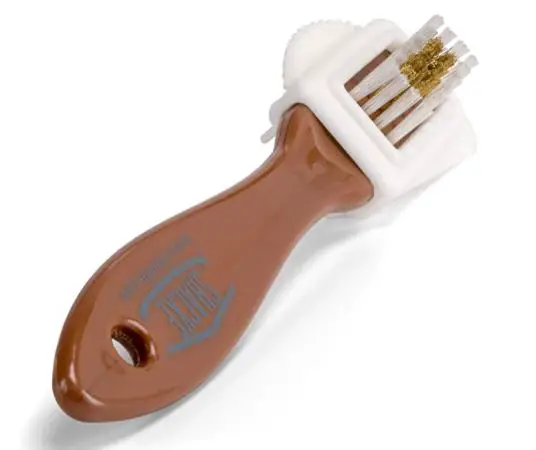 Features:
Nylon bristles
Welt Surface
---
What is a suede protector good for?
The suede protector will help keep your jacket clean and protect it from many surface stains, such as water and oil. However, a suede protector won't protect against heavy stains, like blood, ink, or mud. Suede protector helps against many colors acquired through everyday wear.
Recommended Product
Protect footwear from water and stains and keep them looking new with this all-in-one suede and fabric boot care kit.
Use the concentrated suede cleaner to safely remove dirt and grime from suede, nubuck, canvas, and boots.
Maximizes breathability of waterproof-breathable shoes to keep your feet feeling cool and dry.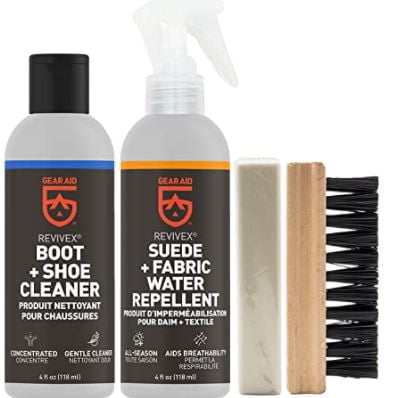 Features:
---
Additional Tips on How to Clean Suede Jacket
When using a vinegar solution, make sure you don't saturate the cloth or cotton ball. It should only be damp.
Spray new suede items with a suede protection product, readily available in stores. Test a small hidden section before you spray the entire item.
Don't clean oil or grease stains with water, as it might spread the stain.
Brush off the dust from your garments or shoes with a suede brush. Don't use the brush for anything else.
Wear a scarf to protect suede collars from sweat, hair products, body oil, and makeup.
Store your suede garments in fabric bags, not plastic, so that they can breathe.
Have unusual stains removed by a specialist; have expensive items professionally cleaned by a specialist, too.
Take your garments to a suede specialist for a professional cleaning every other year.