Have you been postponing cleaning your shower space because it's a total drag every single time? We hear you! But did you know that you can clean your shower tiles without all that hard work? That's right, it may sound unusual, but if you continue reading, you'll find out exactly how to clean shower tiles without scrubbing.
It's comprehensible to leave your cleaning shower tiles ritual last and even avoid it for a couple of days or weeks. However, the more you wait, the dirt accumulates and becomes so strong that it turns out harder to wash them off. That's right; regular cleaning should be a strategy you'll need to adopt in order not to strain yourself. So learning how to clean shower tiles without scrubbing is a skill you'd want to know.
But don't worry, there are several ways in which you can face this predicament head-on and come out the other way. As dreadful as it may sound, you will do it eventually, so why not do it as quickly and as painless as possible. To help you in the right direction, discover different methods to tackle cleaning your shower tiles without scrubbing below.
How to Clean Shower Tiles Without Scrubbing
If you are into more natural products, below we'll show you five different Methods to clean shower tiles without scrubbing.
1. Vinegar
Vinegar is anti-bacterial and works magic on grimy tiles.
Mix one part vinegar with water and spray the solution onto your shower tiles using a spray bottle.
Apply a generous layer, making sure that you get it all over the tile grout too.
Leave this solution sitting on the shower tiles for a good 30 minutes to allow it to work fully.
When it's done soaking off all that soap scum and grime, put your shower onto its hottest and most direct spray setting and rinse the tiles thoroughly.
Recommended Product
Highly concentrated and powerful.45% Calyptus Vinegar can be diluted up to 1:8 with water or used at full strength for the most challenging jobs.
Clean floor, carpet, tile, ceramic, glass, sink, drain. Remove stain, odor, limescale, soap scum, rust. With this multipurpose formula, you can also clean the deck, patio, brick, masonry, vinyl siding, and more.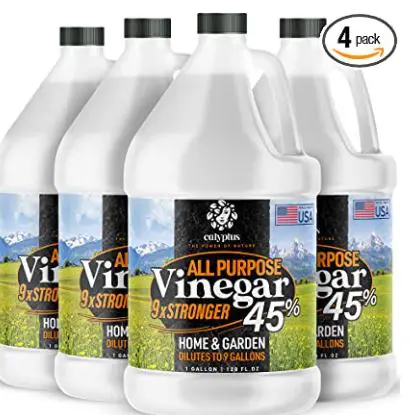 Features:
Spray
Concentrated
Powerful
---
2. Hydrogen Peroxide
To make up a cleaning solution in a spray bottle, use 1 part Hydrogen Peroxide to 2 parts water, so for every half cup of Hydrogen Peroxide, you'll be adding 1 cup of water.
Spray this mixture generously over the shower tiles and allow it to soak in for about 30 minutes.
When the 30 minutes is up, rub over the shower tiles firmly with a rough textured cloth, rinsing it out as you go to get rid of shower scum and built-up soap residue.
Once you've wiped all over thoroughly, dry off the tiles with a clean towel, making sure to soak up water out of the tile grout.
Recommended Product
Solimo first aid antiseptics help prevent infection in minor cuts, scrapes, and burns. Use as a cleansing agent for minor cuts and abrasions.
32-fluid ounce bottle of first aid antiseptic. First aid to help prevent the risk of infection from minor cuts, scrapes, and burns.
Active ingredient: 3% hydrogen peroxide (stabilized).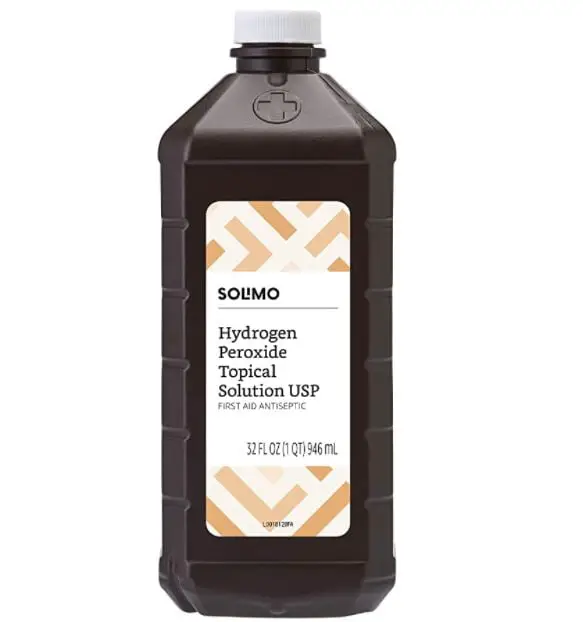 Features:
---
3. Baking Soda Paste
Mix baking soda and water until you have a paste the consistency of toothpaste.
Rub this paste over the tiles and into the tile grout until the areas you want clean are covered.
Rinse 2 or 3 times afterward with warm water to remove any residue, and then pat the area dry with a dry towel.
Make sure to dry thoroughly to avoid moisture buildup that can lead to mildew.
Recommended Product
It's just pure sodium bicarbonate with no additives and no fillers. Combine with citric acid to make your fizzy bath bombs.
Baking soda is naturally aluminum-free. Perfect for use in your recipes and naturally gluten-free to boot.
Safely remove tough stains in the bathroom. Use it on sinks, showers, toilets, counters, tubs, tile, grout, and more. Add one cup to a load of laundry for cleaner, fresher clothes.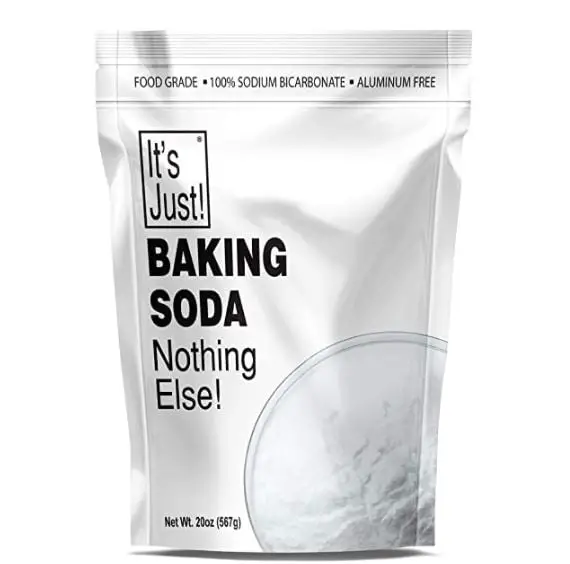 Features:
Gluten-free
Deodorizing
Cleaning
---
4. Oxygen Bleach
It is a bit milder than Clorox bleach. Oxygen bleach is well known for cleaning those dirty and grimy grout.
Nevertheless, oxygen bleach can clean dirty shower tiles without using a lot of energy to scrub.
Mix about three tablespoons of oxygen bleach with two gallon-sized bucket of warm water.
Soak your shower tiles and grout with the mixture and allow it to settle for at least fifteen minutes.
If the tiles are still not clean, make a paste of oxygen bleach with a few drops of water and apply the paste on the tiles and the grout. Rinse your bathroom.
Recommended Product
Activated by the air we breathe and water we drink. OxiClean's unique bubbling oxygen formula helps to break down protein bonds and decolorize harsh stains.
OxiClean Versatile Stain Remover is chlorine-free, so it's safe to use. When used as directed, its oxygen-based water-activated formula safely gets tough dirt and grime out of clothes, carpets, and nearly any surface in your home.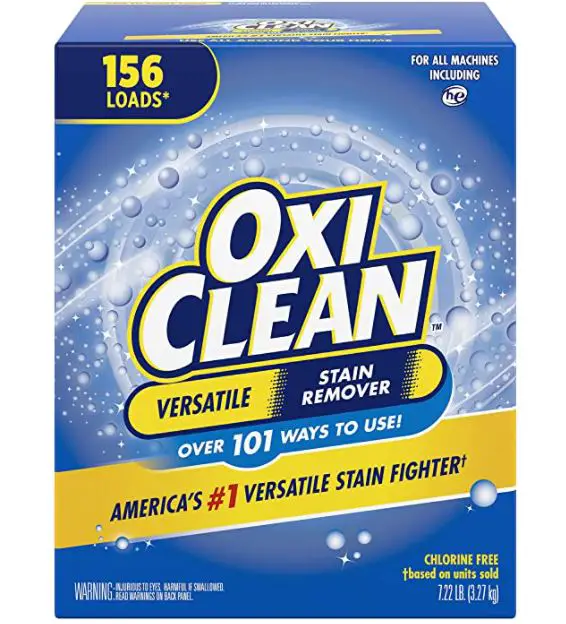 Features:
Versatile
Powder
Chlorine-free
---
5. Dish Detergent and Vinegar
Mix both vinegar and a dishwashing detergent in equal amounts, warm the solution, and put it in a spray bottle.
Use the spray bottle to spray the mixture on the tiles. Ensure all the tiles with stains have been covered with the solution.
Leave the solution on the tiles for at least one hour, and then rinse it off. The answer will work like magic in clearing all the tile stains.
Recommended Product
Mrs. Meyer's Clean Day liquid dish soaps are specifically made to make grease disappear while also providing a unique, singular scent for your entire home. Lemon Verbena dishwashing liquid has a light, refreshingly mild citrus scent.
This biodegradable dish soap cuts through grease yet is gentle enough for hand-washing dishes, pots, and pans.
The dishwashing liquid contains plant-derived cleaning ingredients that keep dishes clean and bright—made without parabens, phthalates, animal-derived ingredients, and always a cruelty-free dish soap.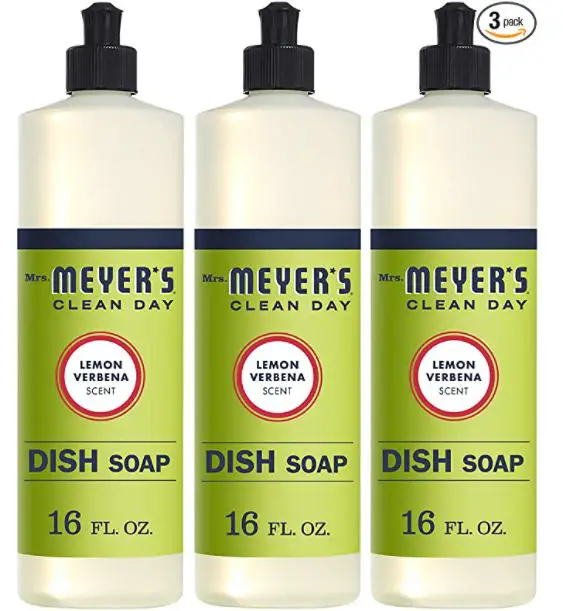 Features:
Scented
Liquid
Biodegradable
---
Common Questions Regarding How to Clean Shower Tiles Without Scrubbing
What causes dirt on shower tiles?
It may sound ironic an area that gets washed frequently could become so dirty. Common causes of dirty tiles include:
Taking a shower when you are very dirty can leave the shower tiles in lousy condition. Some people wash their pets in the shower, which can also contribute to grime buildup.
The minerals in water can attach to the surface of shower tiles and make them look hazy. Hard water is also a problem for the showerhead and other fixtures, and it can even compromise their functionality.
Any detergent, including soap, needs to be rinsed thoroughly from ceramic or porcelain surfaces. If not, a film of soap, called soap scum, forms, attracting more soap and grime buildup.
If the tiler does not buff off grout, the invisible film it forms will grab dirt and trap it to the tile's surface.
What should you keep in mind before cleaning shower tiles without scrubbing?
Harsh Chemical: Bleach can damage your tiles. Whether you are scrubbing your tiles or not to clean out the grouts. It would help if you were cautious while using it, as it can put your skin health at risk because of its toxic feature.
Too much water: Water is essential for cleanliness. But using too much water doesn't make your tiles clean. Instead, it can get trapped under the tiles and weaken them.
Confusion with vinegar: Many people think that vinegar is acidic and shouldn't be used on tiles. It doesn't mix with granite, marble, and soapstone countertops. But, it can be used on hardwood floors, stone floors, and grout.
How to prevent grime and dirt buildup?
Spray a vinegar solution after each shower.
Keep the shower area dry.
Run the water after each shower.
Dust, sweep or vacuum regularly.
Keep your product bottles organized and clean.
What can you use to clean tiles without scrubbing?
If you don't mind using chemicals, a heavy-duty and tile cleaner or a Phosphoric acid cleaner -are the fastest ways to solve your problem.
It will clean ground-in dirt, soap scum, grease, algae, and mildew stains.
You can use it on limestone, granite, slate, marble, ceramic, porcelain, travertine, and many other surfaces.
Try a higher dilution first. If there are still areas needing extra cleaning, apply it undiluted.
The best is to test it first on a corner that won't show as this alkaline solution is potent. Make sure to use protective gloves and goggles to avoid burns.
Additional Tips on How to Clean Shower Tiles Without Scrubbing
Prevention is better than cure. Ideally, it would help if you kept your shower area clean, so you never end up scrubbing the tiles.
Let the bathroom air dry after each shower. If the tiles are constantly wet, mildew can form.
If you notice dirt on the wall and floor tiles after taking a shower, run the water until it disappears. When the soil dries, it sets in and becomes more difficult to remove afterward.
Maintaining a clean shower can be challenging if you do not have the right products and equipment.
It is with no doubt that the secret to cleaning shower tiles without scrubbing depends on the cleaning equipment you are using.
Read: How to Clean a Window Air Conditioner Without Removing it.