How to Clean a Mirror? Can't you see yourself in the mirror anymore? That is a distinct sign that your mirror needs to be cleaned. Cleaning is a task most of us dread, and adding yet another thing to the endless list of objects that need cleaning around your home is no fun; unfortunately, it is something you can't escape. So, instead of whining, learn how to clean a mirror effectively and fuss-free.
If, instead of looking at your own reflection, you've started to notice water spots, streaks, and smudges staring back at you, we regret to inform you; you are past the due date of cleaning your mirror.
We've all been guilty of neglecting our mirrors once in a while; however, a dirty mirror has a huge impact on your bathroom and can even make an otherwise clean bathroom look filthy.
Even though you may feel intimidated by your dirty mirrors, cleaning mirrors isn't hard at all when you know the proper techniques and have the right tools. So it's time to stop postponing the inevitable and get to it. Learn how to clean a mirror properly and obtain a crystal-clear result every time; check out the steps below.
How to Clean a Mirror
Method 1: Rubbing alcohol
Take a small cotton pad and pour some rubbing alcohol on it to soak the pad.
Dab the stains on your mirror with a soaked cotton pad and rub the spot until you remove the stain. You might need to pour the rubbing alcohol more than once as it dries quickly.
Method 2: Vinegar
Take vinegar and water (1 cup each) and mix it well.
Spray on the mirror and wipe the surface with a microfiber cloth.
Method 3: Lemon Juice + Dish Detergent + Vinegar
Take a bucket of warm water and add dish detergent (1 or 2 teaspoons), lemon juice (4tablespoons), vinegar (1/2 cup).
Mix it well and then dip a cloth into the solution
Squeeze it before cleaning the mirror with it.
What materials do you need to clean a mirror?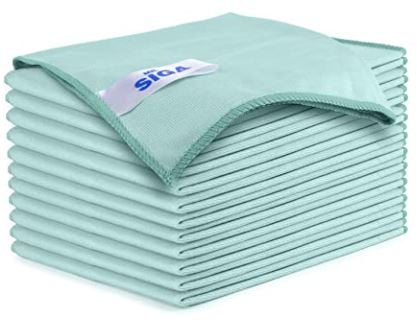 Features:
Soft Microfiber won't scratch the surface
Lint-free, non-abrasive
Easy to wash
Fine Polish
Machine Washable
---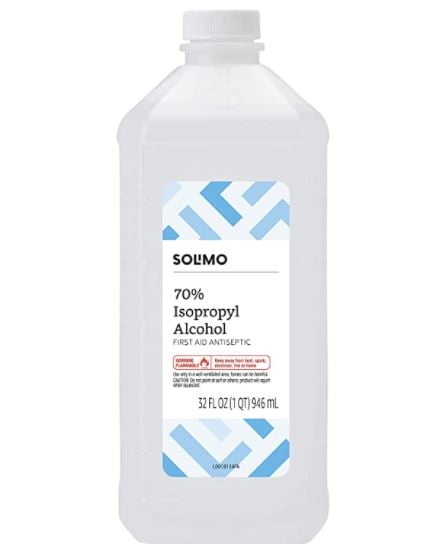 Features:
32-fluid ounce bottle of first aid antiseptic
Active ingredient: 70% isopropyl alcohol
---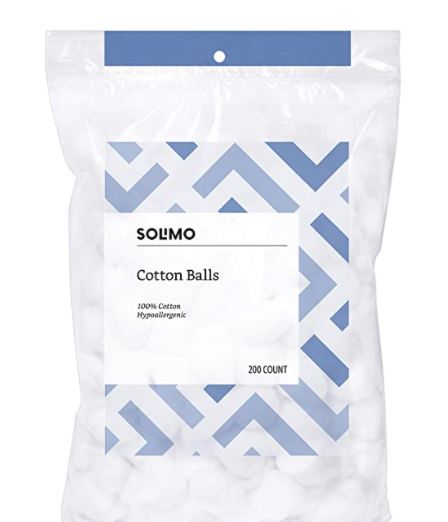 Features:
100% Cotton and Hypoallergenic
Ideal for makeup application and removal
Safe and gentle for baby
Ideal for cleaning, crafts, and various uses in the home
---
Orange essential oils give off a nice scent that neutralizes smelly odors. This cleaning vinegar is safe on most household surfaces, including glass, stainless steel, ceramic and more.
Easy to use, wipe surfaces clean after spraying. Make chemical cleaners a thing of the past with this safer vinegar essential oil formula.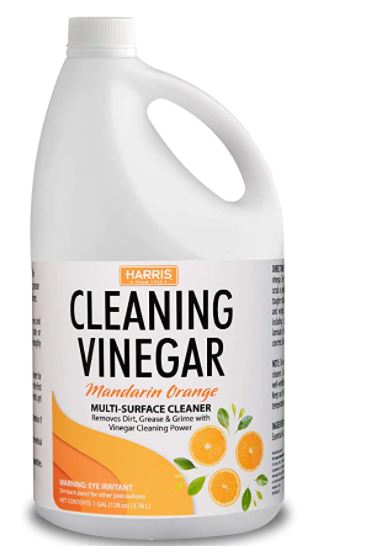 Features:
Pleasant Scent
Powerful cleaner
Versatile
No chemicals
---
The 6.4-inch handle is longer than typical shower squeegees that are only 5.5 inches. Its non-slip ergonomic design provides a comfortable and easy grip for better handling.
The shower squeegee can clean tiles, shower doors, mirrors, windows, car glasses, tabletops, hand washing sinks, and house windows. It efficiently removes water spots, soap scum, and other dirt.
This shower squeegee is made of high-quality stainless steel for long-lasting use, even in wet conditions.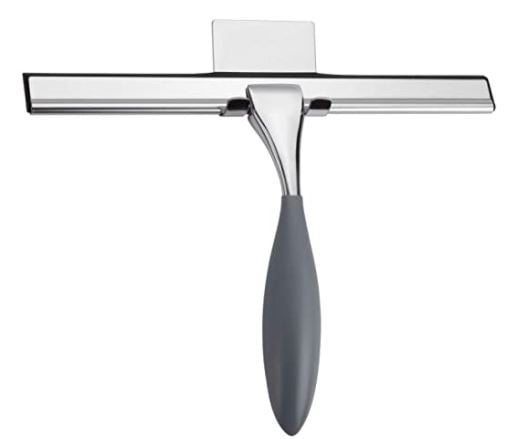 Features:
Rust-resistant
Durable
Stainless steel
Multi-purpose
---
Common Questions Regarding How to Clean a Mirror
What is the best way How to Clean a Mirror without streaking?
Many consider the best way to clean your mirror without streaking is to wipe down mirrors with the squeegee.
Moist the surface properly.
The first step is to remove the dryness from the surface. So, take any homemade cleaning solution or vinegar-based solution and spray it on the entire surface of the mirror.
Use a squeegee to wipe down.
Afterward, use a squeegee to clean the mirror, just like window glass. It is an excellent tool for cleaning the mirror. It will quickly remove all the moisture from the surface.
Use a microfiber cloth.
After cleaning the mirror's surface with a squeegee, use a microfiber cloth to wipe away any remaining drops.
Remove the remaining Marks.
If you still find any dirty spots, stains, or streaks, apply a little bit more cleaning solution on your microfiber cloth and get rid of the mark.
How to Clean a Mirror Effectively and Fast?
Dip a corner of the cloth in the alcohol to scrub the debris before cleaning the rest of the mirror glass.
Spray the mirror with your cleaning solution or glass cleaner.
Grab a microfiber cloth for a streak-free shine.
Use your microfiber cloth to wipe across the mirror in a broad "S" pattern, working from edge to edge, top to bottom.
Try to lead with the same cloth edge to capture any dirt or debris without spreading it around. Don't use a circular motion to clean the mirror.
When the mirror looks clean, stand in a different room spot to see areas you may have missed.
How to prevent a foggy bathroom mirror?
Clean your mirror and, at the same time, prevent it from becoming foggy after you take a shower.
Combine one cup of water, one cup of vinegar, and a teaspoon of dish soap in a spray bottle.
Shake gently to mix.
Apply the solution directly to the mirror and let it sit for a few seconds.
Wipe the spray on the mirror away with either a microfiber cloth or newspaper.
Enjoy the benefit of your glass not fogging up for a few days. Repeat as necessary.
Can you clean a mirror with water?
It may seem surprising that you can wash a mirror with water, but it does the job. Gently wipe down your mirror using a microfiber cloth and ensure you aren't dripping any water. It is also the cheapest way to clean a mirror.
How do you clean mirrors without Windex or other commercial glass cleaners?
Disinfecting wipes. You can obtain pretty good results using disinfecting wipes to clean your mirrors.
Baby wipes. A simple substitute for glass cleaner, baby wipes do a good job cleaning glass and are definitely less toxic than other options.
Liquid dish soap. A good DIY alternative for glass cleaners is to mix a few drops of liquid dish soap with water. This is a relatively low-cost way to clean your windows or mirrors and can be pretty effective. Just make sure to use a microfiber cloth or similar material that doesn't leave any lint behind.
Dryer sheets. Dryer sheets are known to work well for this purpose, and many people use them to clean the glass doors in their showers.
How to make a DIY cleaning solution?
If you want a more effective cleaning solution, take a spray bottle. Then add white vinegar or apple cider vinegar (1 quarter cup), rubbing alcohol (1 quarter cup), cornflour (1 tablespoon), and essential oil (8 to 10 drops). Shake it well and apply it to the mirror before cleaning it with a microfiber cloth.
Additional Tips on How to Clean a Mirror
Avoid touching the mirror with your fingers or hands as much as possible, as this will leave unsightly marks and smears on the surface.
You should avoid using paper towels as they can leave little lint on your mirror. Newspaper is also not advisable as it can leave behind ink marks.
Never apply a cleaning product to the mirror until thoroughly remove dust, dirt, and stains. Any other way only adds to your work.
To check your mirror is clean and streak-free, trying moving around the room to look at it from different angles.
For mirrors in your bathroom or on your dressing table, hairspray, makeup, and fake tan can often leave tough stains. These can be removed by wiping your mirror with a little rubbing alcohol on a soft cloth.
Avoid cleaning solutions that create suds on the mirror, leading to streaks on the glass.
Would you also be interested in learning How to Clean a Hair Brush?