How to Clean a Window Air Conditioner Without Removing it? Are you the proud owner of a window air conditioning unit and perhaps wondering how to clean it? If you had no idea you needed to clean your window air conditioner, we're sorry to break it to you. The sad truth is you need to do it, but you don't need to remove it, and you can get the job done in just nine easy steps.
Window air conditioning modules are typically found in high-rise buildings or homes with good airflow. If you live with said units, you must ensure you provide the proper maintenance. Part of that care includes, of course, cleaning your window air conditioner.
Now, cleaning a window air conditioner doesn't have to be complicated, despite how it may sound or what you think. You do need to use the proper tools and be mindful of the correct procedure. After all, you want to make the most of your unit, not ruin it. Learn everything you need to know about how to clean a window air conditioner without removing it.
How to Clean a Window Air Conditioner Without Removing it in 9 Steps
Disconnect Totally. Take the plug out of the wall.
Remove the Filter. This should come out quickly. If it's washable, get it soaked in a basin of warm soapy water. If it's disposable, get your replacement ready.
Remove the Case. Take out the screws and place them somewhere easy to remember. Take off the front grille and any other components you can remove. Notably the back grille, any removable condensation drain, and any parts of the framing you can quickly get off. Again, soak all of these in warm soapy water and leave to sit.
Vacuum and Wipe. Take your vacuum and get any obvious balls of dust and dirt out of there. Take a slightly damp cloth and immediately wipe any apparent areas.
Spray. Using the spray bottle and some detergent, spray over every interior surface you can wipe down—especially the fins.
Wipe Exteriors. While the interior soaks in spray, we can wipe the exterior. Take each part and give it a good going over with a towel or a cloth. Once clean, leave it out to dry.
Brush Down, back to the interior. Take the soft brush and gently brush down the cooling fins and coils. Try your best not to push these to either side. Only go up and down. Use a fin comb. You can also use a can of compressed air to get at any nooks and crannies.
Wipe Interiors. Lastly, give the soaked interiors a good wipe down with a wet cloth. You can get your hands on pretty much any surface, especially the fins and fan blades. Get as much as you can out of there, then leave everything to dry.
Reassemble. Put each piece back together in the order you took it off.
Tools
A bucket or nearby sink filled with warm soapy water
A vacuum with a soft brush attachment
An actual soft brush or comb
A spray bottle with warm water plus two drops of detergent or bleach
Cloths or a small tower, you can get dirty
Newspaper to lay down under the AC and where you'll be working
A screwdriver
A tiny tray to place screws/small parts in
Your user manual
Protective gloves
A Fin Comb
Can of compressed air
Recommended Products
Heavy-duty wire bails offer extra durability for heavy use. Twin spouts guide water flow from either side.
Recessed grips on the bottom for easy, controlled pouring. Hand grips are designed for comfort.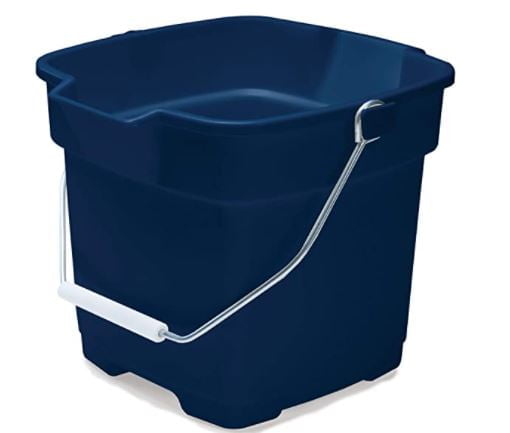 Features:
Blue color
Plastic
12 Quarts capacity
---
The hand broom cleaning brush is made of dense and thick soft bristles. The bristles are not easy to fall off, difficult to deform, durable, and smooth in texture.
The dust removal brush is very suitable for cleaning clothes, beds, furniture, cars, couch broom and can also be used as woodworking brushes, fireplace brushes, and keyboards.
The comfortable handle is made of natural solid wood, which is comfortable to hold, lightweight, and durable than plastic handles.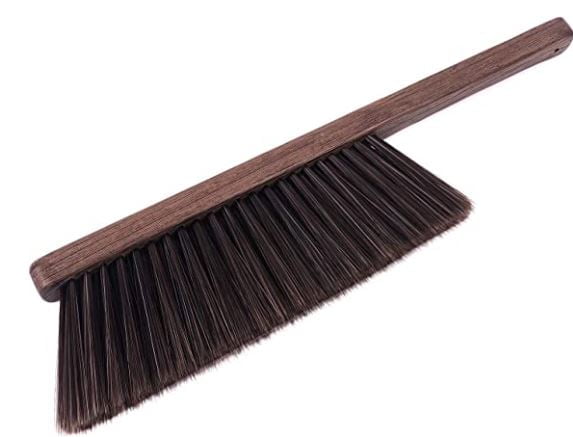 Features:
Soft bristles
Comfortable handle
---
Heavy Duty HDPE sprayer bottles are leakproof, making for an ideal rubbing alcohol spray bottle. Great Cleaning Spray Bottle Chemical-resistant spray bottle for cleaning solutions of all types.
Use All Around the House as a spray bottle for plants, animal training, cleaning, and much more. Perfect size at 32oz, our not-too-big and not-too-small spray bottle has enough capacity for the job.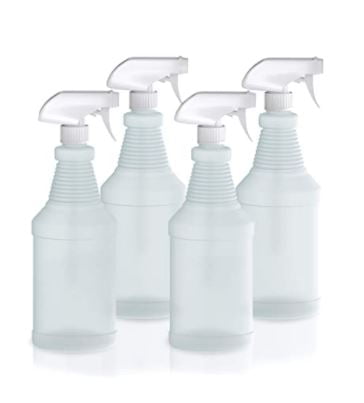 Features:
---
Clean, disinfect, and deodorize with the power of Clorox Bleach concentrated formula.
For use in HE and standard washing machines.
A registered disinfectant that kills up to 99.9 percent of household germs and bacteria. Excellent antibacterial, germicidal, and fungicidal properties.
Easy to grip handle prevents spillage, perfect for cleaning and disinfecting around your home or office.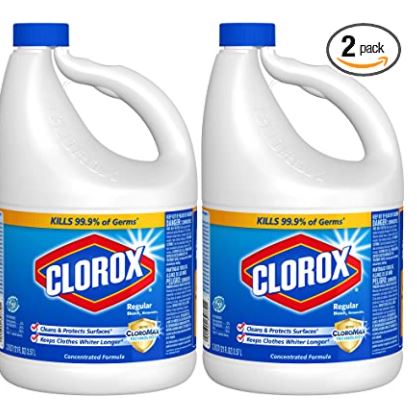 Features:
---
Multi-bit screwdriver/nut driver shaft holds eight popular tips and converts to 3 nut driver sizes—interchangeable blade for a fast and easy switch out; comfortable Cushion-Grip handle.
Blast finish bit tips provide a firm hold and reduce cam-out.
This versatile 11-in-1 multi-tool has everything the professional needs. The blades are interchangeable for a quick and easy switch out.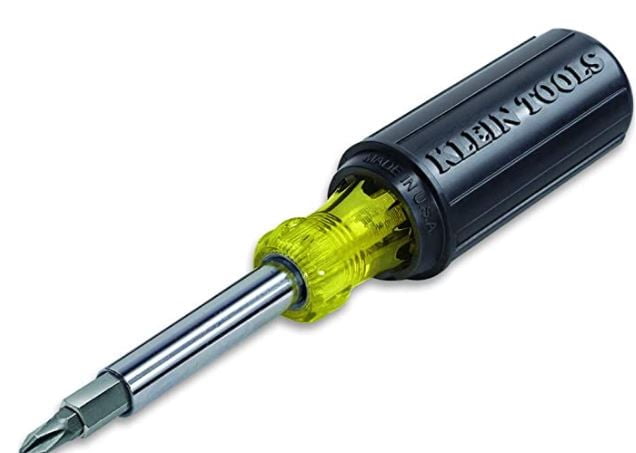 Features:
Multi-bit screwdriver
Cushion-Grip handle
---
Vulcanization processing makes the surface of gloves smooth; it's not easy to stick together.
Unique hand design to improve comfort, unique palm texture design to prevent slippery effectively, excellent grip.
Gloves are smooth and elastic, easy to put on and off; there is no uncomfortable feeling even if worn for long.
Ideal for automotive, furniture renovation, chemical industry, car washing, mechanical maintenance, yard work, etc.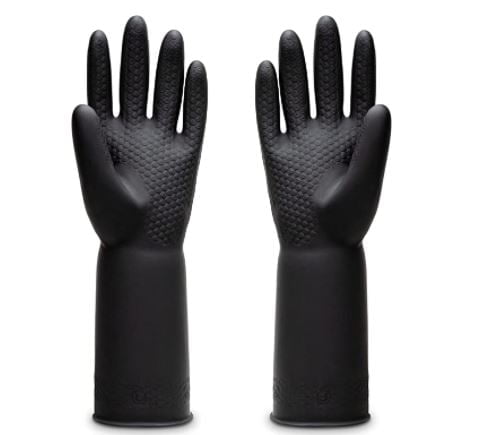 Features:
Excellent elasticity
Durable
---
Common Questions Regarding How to Clean a Window Air Conditioner Without Removing it
Is it OK to spray water on your window air conditioner?
The good news is that you absolutely can spray water on your air conditioner if it needs a cleaning, and nothing terrible will happen. Spraying water on your AC's condenser also helps it run more efficiently. In fact, your condenser needs regular spritzing to keep doing a good job.
Can you clean the inside of a window air conditioner?
How to Clean a Window Air Conditioner Without Removing itUse an air conditioner coil cleaner or an oxygenated household cleaner. You can also mix warm water with a few drops of dish detergent. Spray the front panel, case, and window fins with the cleaner. Then spray the interior coils, fan, aluminum fins, and interior base.
Can I spray bleach in my window air conditioner?
How to Clean a Window Air Conditioner Without Removing it using bleach is an excellent choice to clean a window air conditioner since it destroys mold. Unfortunately, it will also destroy metal and some parts of your AC.
How to clean a mounted window air conditioner?
Turn it off. Disconnect entirely from the wall.
Remove the filter. Soak in warm soapy water.
Remove the case. Wipe down with warm soapy water. This includes any detachable framing.
Vacuum and wipe down. Any significant areas that need some serious attention.
Spray with warm soapy water all over the interior.
Softly brush/comb down the fins. Remove as much dirt/grime as possible. Avoid pushing on them.
Leave everything to dry, then reassemble.
What are some of the benefits of cleaning a window air conditioner unit?
The air filter is clean and does its job. A dirty air filter causes breathing issues and can also clog and cause a lack of airflow. Thus, resulting in the coils freezing. A clean air filter will allow the machine to last longer, provide cleaner air in the home, and the unit will be quieter as it does not have to work so hard.
Fins allow air to flow through. After any cleanings, use the fin comb mentioned above and keep the cooling fins as straight as you can.
Find mold issue early. Is water leaking out of the unit onto the carpet, causing mold to form? Water leaking will cause health issues as the mold forms. You will want to take care of this right away.
It'll run quieter. A dirty machine needs to work harder to give the same result. By reducing its workload, your air conditioner will be much more efficient.
You'll use less energy. As above, with a more efficient AC comes lower energy bills.
It'll last for longer. With less stress on the machine, you'll benefit from a longer, healthier air conditioner lifespan.