How to Clean Shower Head Without Vinegar? Is your shower head not working as it should, or perhaps it has stopped performing like it used to? This may be a sign that your shower head needs to be adequately cleaned. The first thing you think is probably to clean it using vinegar, but what if you are out of it? Don't worry because today we'll be telling you all about how to clean the shower head without vinegar.
It's understandable to overlook the cleaning of your shower head; after all, water is constantly running through it, so it may not occur to you that it needs to be cleaned. Well, wrong; over time, mineral deposits can build up, which can cause the nozzles to squirt water in all directions or clog up entirely, leaving you with poor water pressure or low flow—the reason why it becomes pretty important to keep your shower head clean and hygienic.
It may sound intimidating, but don't worry; cleaning your shower head while you are out of vinegar doesn't mean it can be done. That said, to make your life easier, the proper tools and the right steps must be followed. To help you in the right direction, learn everything you need to know about cleaning your shower head without vinegar the right way.
How to Clean Shower Head Without Vinegar
Bleach
To clean the showerhead using this method, you should mix bleach with water in a bowl, bucket, or container that will never be used for food storage again.
Ensure that the mixture is diluted before you apply to to the showerhead.
Apply the bleach solution using a soft cloth to wipe the showerhead thoroughly.
Leave it for five minutes before rinsing it off with water.
After that, you can use a mild soap to raise again. Allow drying. This method would make an old showerhead appear new.
Check the showerhead thoroughly for any cloudy residue. That is an indication that there is till bleach left in the showerhead.
When you are through with the process, dispose of the remaining bleach solution.
Recommended Product
CLOROX Commercial Liquid Bleach has an 8. 25% concentration level that is EPA-registered to kill more organisms than original Ultra Clorox Germicidal Bleach and private label germicidal bleach.
Claims on both E. coli and listeria in addition to salmonella. Meets FDA guidelines for sanitizing food-contact surfaces.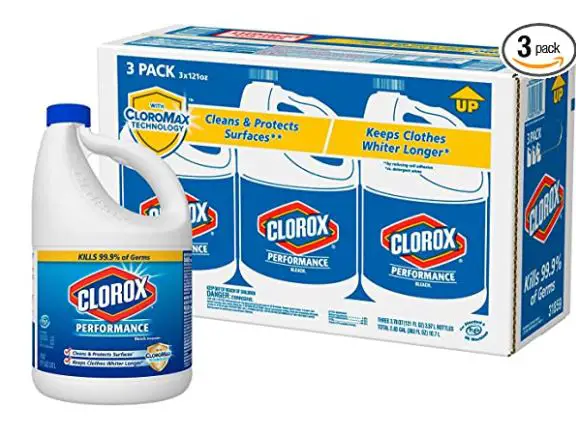 Features:
Liquid
Meets FDA guidelines
121-oz. bottle
---
Baking Soda
To clean your showerhead using the baking soda method, combine the baking side with warm water in a small container so that it turns into a paste-like form.
If the water outweighs the baking soda and becomes slightly runny, add more baking soda until it gets to your desired taste.
Apply the paste to the showerhead, including all of the holes. Cover the entire showerhead and leave for at least 30 minutes before rinsing thoroughly.
After rinsing, ensure that the mixture is completely removed from the showerhead not to cause additional clogs.
Test the showerhead once you are done.
Recommended Product
It's just pure sodium bicarbonate with no additives and no fillers. Combine with citric acid to make your fizzy bath bombs.
Baking soda is naturally aluminum-free. Perfect for use in your recipes and naturally gluten-free to boot.
Safely remove tough stains in the bathroom. Use it on sinks, showers, toilets, counters, tubs, tile, grout, and more. Add one cup to a load of laundry for cleaner, fresher clothes.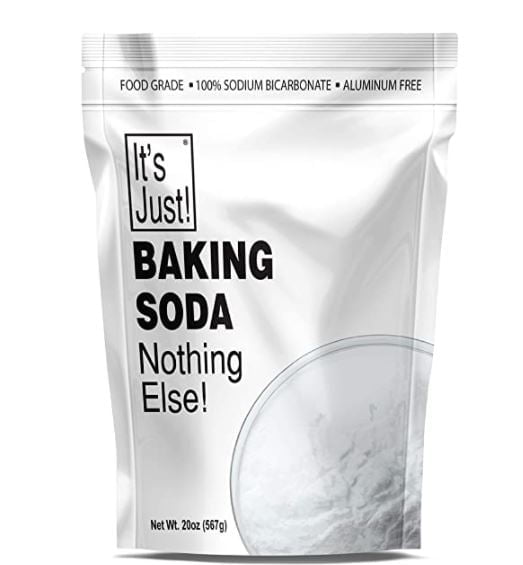 Features:
Gluten-Free
1.25 Pounds
100% Sodium Bicarbonate
---
Lime Scale Remover
Squeeze lemons in a juicer or buy lemon juice.
Use a soft cloth to clean the showerhead with lemon juice thoroughly. The acid present in lemon juice will do the work for you.
You can add a pinch of salt to the lemon juice to make your showerhead shinier. This will remove all mildew and grease from your showerhead and make it sound new.
Leave for a few minutes on the showerhead. After completing this process, rinse off the lemon juice and wipe it completely dry.
Recommended Product
CLR Calcium, Lime, and Rust Remover is a non-toxic, multi-purpose cleaner designed for bathrooms or kitchen-related surfaces. It breaks down calcium, lime, and soap scum to leave behind a streak-free shine.
Quickly removes calcium, lime, and hard water deposits, soap scum, discoloration, and dirt. Cleans and shines stainless steel, countertops, tubs, showers, tile, fixtures, and sinks.
Versatile cleaner for home or office surfaces. Use plastic, ceramic tile, glass, stainless steel, faucet, shower fixtures, shower doors, fiberglass, toilet bowls, and sinks.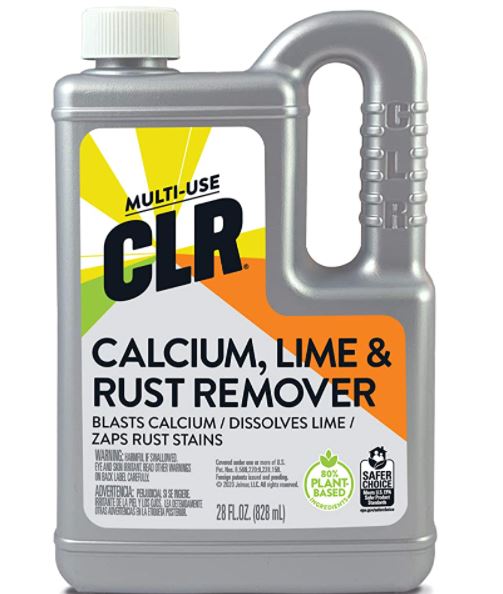 Features:
Non-toxic
Liquid
Multi-purpose
---
Coca Cola
Fill up a bowl with coca-cola
Put the disconnected showerhead into the coca-cola and let it stay for a while.
Use a brush to scrub the showerhead and the holes inside out. Repeat the process until you are delighted with the outcome.
Rinse off the separate shower with warm water.
You can consider using a mild soap to rinse again to eliminate the showerhead's grease resulting from the sugary soft drink.
Oven Cleaner/Dishwasher
Remove the attached showerhead (if possible). Don't worry; you can also clean it without removing it.
Add five tablespoons cleaner, 2 cups of water in a bowl, and mix it well.
Before using oven cleaner or dishwasher, it's good to wear hand gloves to protect your hand's skin.
Wear a mask if you feel troubled by the strong smell of cleaners.
Soak head into the solution for 40 minutes. For a separated head, pour the solution into a plastic bag, attach it to the showerhead, bend with a rubber bend.
Later, wipe and rinse with hot water. (Be careful to use hot water)
Turn on and test performance. Hope it must do a better performance than before.
Recommended Product
Spray Easy-Off on and wait while it dissolves away stubborn stains so you can wipe them out without scraping or harsh scrubbing. Ideal for cleaning ovens/oven doors, broilers/broiler pans, and stainless steel surfaces
Easy-off professional Fume-free Max oven cleaner cleans tough baked-on grease & food spills with no fumes.
The advanced cold-oven technology penetrates tough oven grease and effectively cleans with no Lye or harsh fumes. This oven cleaner is great for everyday spot cleaning, so no need for protective gloves. Use on ovens, broilers, and barbecue grills.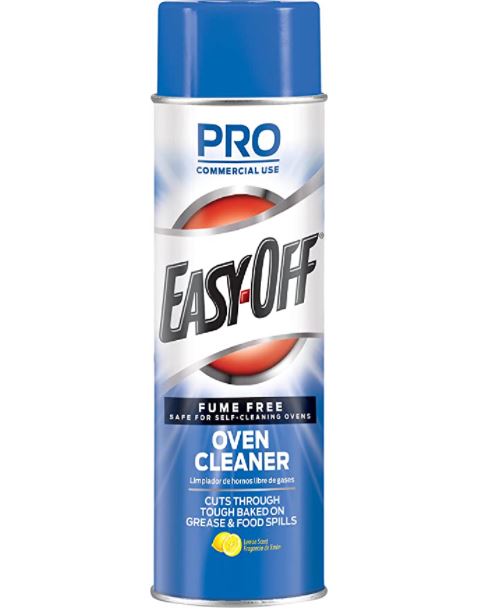 Features:
Aerosol
Lemon Scent
No fumes
---
Common Questions About How to Clean Shower Head Without Vinegar
Why do you need to clean your showerhead regularly?
A showerhead passes several gallons of water daily. Containing calcium and other minerals in water deposits inside and outside showerheads. These unwanted elements make clogging that creates barriers against water supply. Even sometimes, you will get polluted water that is significantly dangerous for your health. To live safely from this, you need to clean your showerhead routinely.
When should I clean my shower head?
Cleaning once a month is the best practice to keep showerheads active. Never keep it dirty for over three months if you want enhanced showering pleasure. Also, clean the whole bathroom and use an exhaust fan to get a shower-friendly environment.
How do I get limescale off my shower head without vinegar?
You can use baking soda, liquid soap, or even coca-cola as a substitute for vinegar. The method to clean your shower head with these three ingredients is straightforward and effective and can easily be repeated once you know them.
What is the safest way to clean a shower head?
Many shower heads have flexible rubber nozzles. You can dislodge mineral buildup in these nozzles by simply massaging each nozzle with your finger. You can also try gently scrubbing the nozzles with a toothbrush.
How to clean the filter screen?
In general, the filter screen is located in the showerhead that connects to the pipe. You will need to remove the shower head from the pipe to get to the filter screen.
Once the filter screen is out of the pivot ball, run the screen underwater for a few minutes to flush out any buildup. You can also use a toothbrush to brush out mineral deposits gently.
Place the filter screen back into the pivot ball and re-install the shower head to the shower pipe.
How to prevent clogs in the shower?
Ensure you clean your shower head regularly to prevent future clogs. Take preventive measures quickly; you don't have to wait till you see the buildup of residue.
Mildew and soap scum can clog a showerhead and damage the metal or plastic finish of the fixture.
If you clean the showerhead as part of a regular bathroom cleaning routine, it will prevent severe clogs and mildew from developing and keep up with the fixture shiny's appearance. That is the key to making old shower heads appear as new.
Additional Tips on How to Clean Shower Head Without Vinegar
For your convenience, you should consider disconnecting the showerhead from the wall. If you don't know how to disconnect it, look up the internet or check the instruction manual that comes with it.
Bleach is a disinfectant household cleaner that is cheap, practical, and easily accessible. However, it should be used with caution and in a well-ventilated space.
Baking soda is handy when it comes to household cleaning. It is non-acidic, non-toxic, but unlike soap, it is slightly abrasive.
Coke has incredible cleaning power. It produces fabulous results in removing grease and rust. It also helps in restoring worn-out silver or copper.