Not entirely sure how to clean Lululemon yoga mat? Your Lululemon yoga mat is your partner in the pursuit of physical and mental wellness. However, sweat, dirt, and grime can accumulate on it over time, which can interfere with its grippiness and potentially cause unpleasant odors.
Therefore, it's crucial to keep this vital piece of equipment clean for an optimal yoga experience. In this article, we'll guide you through step-by-step instructions on how to clean Lululemon yoga mat the right way, ensuring it stays in the best possible condition for your practice. Let's dive in!
How to Clean Lululemon Yoga Mat Quick Guide
Is your favorite Lululemon yoga mat giving dirty vibes? Just follow these simple steps on how to clean Lululemon yoga mat and get back in action in no time! For a detailed description of each step keep reading below.
Get the Cleaner Ready
Spray the cleaning solution to your Lululemon Yoga Mat
Cleanse your yoga mat by wiping it down
Allow the yoga mat to naturally dry in the open air
How to Clean Lululemon Yoga Mat: Steps
Now that you know the steps for successfully cleaning your Lululemon yoga mat, it's time to really understand how to perform the cleaning process.
Step 1: Get the Cleaner Ready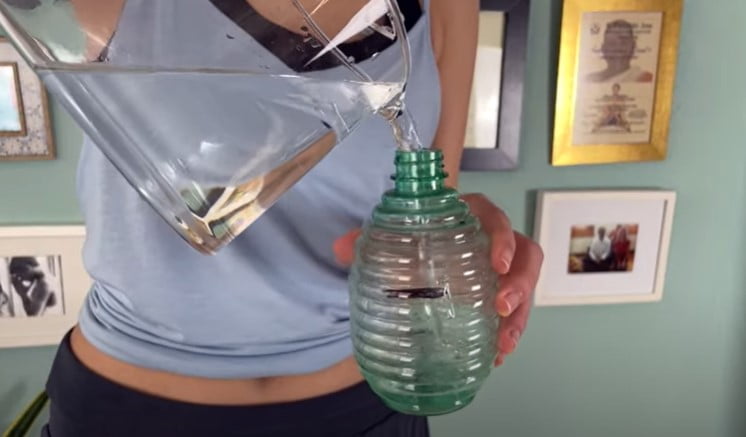 You have three cleaning solution options when it comes to cleaning your Lululemon yoga mat. All of them are highly effective, so your choice may depend on what you already have in your kitchen or what you feel most comfortable using.
Essential oils: Prepare a spray bottle and combine 1 part white vinegar with 4 parts water. Then, add up to 20 drops of tea tree oil. The tea tree oil effectively eliminates bacteria, viruses, and fungi, while the white vinegar effortlessly dissolves dirt, grease, and grime.
Baking soda and lemon juice: If you start noticing an unpleasant smell coming from your Lululemon yoga mat, there's another effective cleaning method you can try. Just grab a spray bottle and combine 1 cup of water, 1 teaspoon of baking soda, and up to 10 drops of lemon juice. This powerful mixture not only removes tough stains but also eliminates any foul odors. The baking soda works wonders in getting rid of those pesky stains, while the lemon juice adds an extra touch of antibacterial properties.
Warm water and mild dish soap: For a thorough cleaning, this method is highly recommended. Moreover, you probably have all the necessary ingredients right in your kitchen. Begin by preparing a small to medium-sized basin. Fill it with warm water, ensuring it is not too hot, and add a few drops of mild dish soap.
Step 2: Spray the cleaning solution to your Lululemon Yoga Mat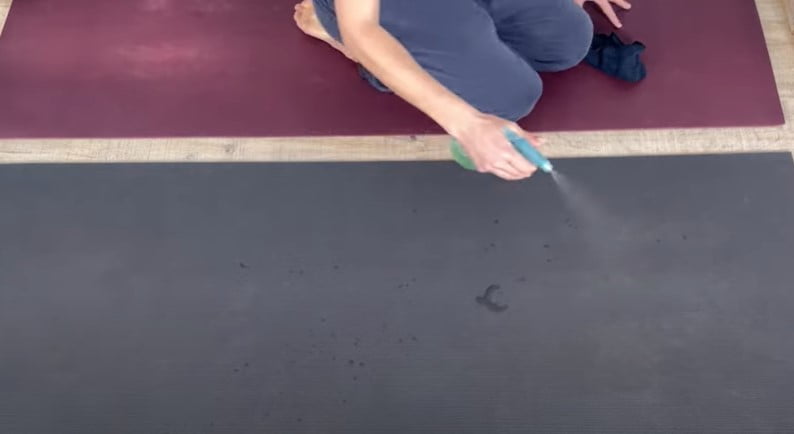 Once you've prepared your cleaning mixture, the next step is to generously spray the entire yoga mat, ensuring complete coverage. However, if you're following the third method, you'll need to add water and dish soap to a basin, giving it a slight mix.
Then, dip a sponge into the basin and wipe down your yoga mat without the need for spraying. As a helpful tip, since method number three involves more water and can get messy, consider doing this process in a bathtub or placing your Lululemon yoga mat on a towel. Lastly, remember to clean both sides of your mat for a thorough cleaning experience.
Step 3: Cleanse your yoga mat by wiping it down
Once you have sprayed your mat, take your cleaning cloth or sponge and wipe it down thoroughly, both on the front and back. This step shouldn't be time-consuming, but it's important to ensure that you give it a good wipe-down to remove any residue.
Step 4: Allow the yoga mat to naturally dry in the open air
For the final step, once you have wiped down the cleaner, it's time to let your yoga mat hang dry. You can do this by placing it over a chair or hanging it on your washing line. However, it's important to note that direct sunlight should be avoided.
This is because the Lululemon yoga mat is made of 61% natural rubber, which can be damaged by UV light, leading to a porous and slippery surface.
After approximately an hour of waiting, your Lululemon yoga mat will be dry and ready for your next yoga practice. Simply roll it back up and you're good to go.
Common Questions About How to Clean Lululemon Yoga Mat
By now, you are an expert on how to clean Lululemon yoga mat and all you are missing is checking the most frequently asked questions.
Why should you learn how to clean Lululemon yoga mat?
There are two primary reasons why it is crucial to ensure the cleanliness of your yoga mat. Firstly, by eliminating bacteria and odors that may be lingering on the mat, you create a clean and hygienic surface. Secondly, a clean and slightly sticky mat promotes optimal grip and receptiveness, enabling you to perform yoga poses with ease and precision.
Paying special attention to keeping the yoga mat fresh is particularly important, considering that your face and hands come into close contact with it numerous times during each session.
Can you clean a Lululemon yoga mat with commercial cleaners?
If you lack the time or motivation to create your own yoga mat cleaning solution, ready-made cleaners can be a convenient option. Some yoga mat companies even offer their own cleaning products, providing another great choice for maintaining your mat's cleanliness.
Alternatively, you can opt for yoga mat cleaning wipes, although this method may be slightly more expensive. The yoga mat cleaning wipes are free from alcohol and bleach, instead infused with organic essential oils. This leaves your yoga mat with a delightful fragrance, ensuring a pleasant and refreshing experience.
How frequently should you cleanse your yoga mat to ensure optimal cleanliness and hygiene?
It is recommended to gently wipe your yoga mat with a damp cloth after each class, especially if you tend to perspire. For weekly maintenance, you can use a homemade yoga mat cleaner to wipe it down. Once a month, it is beneficial to give your mat a deeper clean by using warm water and dish soap.
To prevent mold and unpleasant odors, allow your mat to air dry. As a general guideline, it is advisable to clean your yoga mat when it appears dirty or emits an odor.
When cleaning your Lululemon yoga mat, what features should you consider?
The Lululemon yoga mats feature an FSC-certified natural rubber coating on the bottom and a grippy polyurethane coating on the top. The top layer is specifically designed to absorb moisture, which affects both the cleaning process and how you utilize the mat.
Lululemon yoga mats are equipped with an antimicrobial agent composed of silver nanoparticles. However, if you ever notice any unwanted smells, a simple solution is to sprinkle some baking soda on the mat.
Exposing a wet yoga mat to direct sunlight for drying can cause damage to the FSC-certified natural rubber base. Initially, you may observe fading, but over time, the mat will deteriorate completely. To prevent the need for purchasing a new yoga mat, it is advisable to exercise caution when choosing the drying location.
Video How to Clean Lululemon Yoga Mat: Plus Bonus Hacks
For those who prefer visuals and audio, watch this helpful video on how to clean Lululemon yoga mat.
Final Thoughts
In conclusion, maintaining the cleanliness of your Lululemon yoga mat, by mastering how to clean Lululemon yoga mat, is vital not only for hygienic reasons but also to ensure the durability and performance of the mat. With simple, household items like baking soda, lemon juice, or mild dish soap, you can efficiently and safely clean your mat.
Moreover, ensuring it is left to air dry in the shade will maintain the integrity of the natural rubber. By following the above steps, you will extend the lifespan of your yoga mat, keep it free from unpleasant odors and bacteria, and enhance your overall yoga experience. Remember, a clean mat is a happy mat!