Countertop ice makers are a convenient addition to any kitchen, especially during those hot summer months when you want a refreshing beverage. However, over time, they can accumulate grime and mineral deposits affecting their performance and the quality of ice they produce.
If you've been wondering about how to clean your countertop ice maker effectively, you've come to the right place. In this article, we'll guide you through the process, step by step, helping you keep your machine in top shape for those moments when you need it most. Let's get started!
How to Clean Countertop Ice Maker Quick Guide
If you like things done the right way, you need to take matters into your own hands and learn how to clean countertop ice maker by following the best practices.
Refer to the user manual for instructions
Prepare the machine for cleaning and get your supplies
Clean the detachable parts
Clean the interior of the machine
Clean the exterior of the machine
Replace the filters
Run a cleaning cycle
How to Clean Countertop Ice Maker: Best Practices
Now that you are somewhat aware of how to clean countertop ice maker, it is time to really get into it, so continue reading all the details below.
Refer to the user manual for instructions
Before cleaning your countertop ice machine, it is important to consult the user manual for the best practices. It is advisable to avoid using any methods or harsh chemicals that are not recommended by the manufacturer. Doing so could potentially compromise the machine and have negative implications for your health.
Prepare the machine for cleaning and get your supplies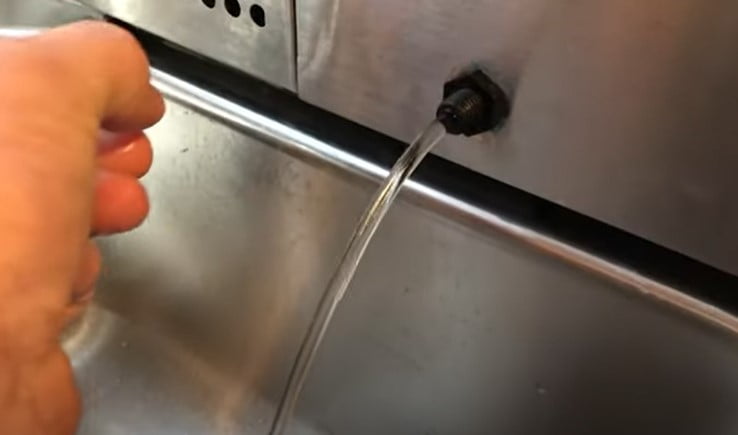 Before you begin cleaning the unit, make sure to turn off the machine and unplug it. Start by removing the ice bucket and emptying the ice into a container. Store the container in your freezer.
To drain the reservoir, unplug the machine or remove the stopper and let the water flow into the sink. Don't forget to remove any removable parts such as the ice scoop and drip tray.
If you notice any calcium build-up on your unit, follow step 1 of the instructions. Then, pre-soak the affected area with undiluted vinegar. Let it sit for 15 minutes before rinsing and moving on to the next step.
To clean effectively, have the following items ready: a sponge, a microfiber cloth, a soft-bristled brush or toothbrush (optional), a bottle of dish soap, and a bottle of vinegar.
Clean the detachable parts
To effectively clean the detachable parts, start by soaking them in warm, soapy water for approximately thirty minutes. This will help loosen any debris or grime. Afterward, gently scrub the parts with a sponge to ensure a thorough cleaning. For more stubborn and persistent stains or scale buildup, employ a soft-bristled brush to meticulously remove them.
Clean the interior of the machine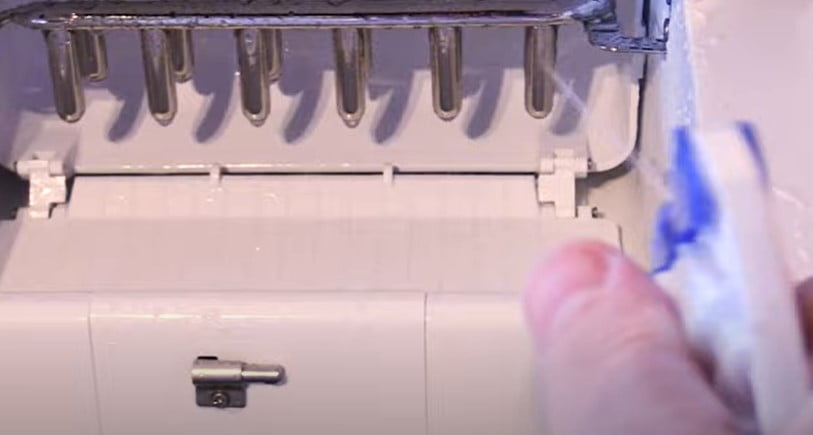 Prepare a solution by combining equal parts vinegar and water. Use this solution to wipe the interior of the machine. For stubborn buildup, mildew, or other tough messes, you may need to use a soft-bristled brush, such as a toothbrush, to reach tight corners and crevices. Once all the buildup has been dislodged and the rest of the interior has been thoroughly cleaned, rinse the inside of the machine with fresh tap water.
Clean the exterior of the machine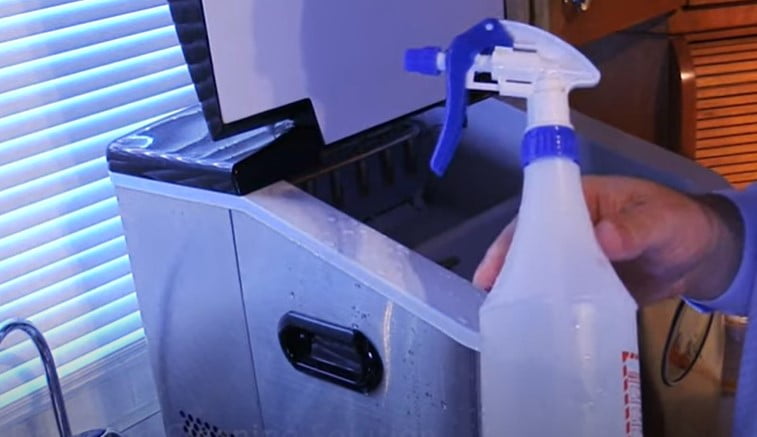 Prepare a fresh cleaning solution by combining vinegar and water in a 1:1 ratio. Immerse a clean cloth in the solution and gently wipe the machine's exterior to eliminate dirt, fingerprints, and smudges. Finally, use a dry, clean cloth to thoroughly dry the machine.
Replace the filters
Countertop ice makers and freezers often include replaceable filters that help maintain their performance. When cleaning, remember to remove the old filter and replace it with a fresh one to ensure optimal functionality.
Run a cleaning cycle
After cleaning, reassemble the machine by putting back the cleaned and removable parts. Plug the machine back in and initiate an ice-making cycle to remove any remaining cleaning solution, loosened scale, or debris that may have been missed during rinsing.
Once the cycle is complete, discard the ice and repeat the process again, discarding the ice once more upon completion. Each ice cycle typically lasts about 20 minutes, so allocate 40 minutes to an hour to complete two cycles.
Common Questions About How to Clean Countertop Ice Maker
Why should you learn how to clean countertop ice maker?
Proper and regular cleaning and maintenance of the ice machine is crucial for its optimal and long-lasting functionality. Additionally, as an essential component of food processing, the ice machine must adhere to strict cleanliness standards to ensure the safety of food products. Therefore, upholding high standards of hygiene is imperative to guarantee the safety of ice cubes for human consumption.
How frequently should you clean a countertop ice maker?
To ensure optimal functionality and prevent issues such as scale build-up and bacterial growth, it is recommended to clean your countertop ice maker every three to six months. If you observe any signs of build-up, such as cloudy ice or a change in taste, it is advisable to clean your machine promptly to address the issue. By maintaining regular cleaning practices, you can keep your ice maker running smoothly and enjoy high-quality ice at all times.
What maintenance tips can help extend the longevity of your countertop ice maker?
Utilize Clean Water for Refills: The water quality you employ in your ice machine significantly impacts its lifespan. Unfiltered water can cause blockages and discoloration in the water lines. For optimal outcomes, it is advised to use distilled water, water that has been double-boiled, or boiled distilled water when refilling your machine. Additionally, remember to regularly replace water filters as per the manufacturer's recommendations. Ensure the smooth and efficient operation of your ice machine by making the right choice of water.
Thoroughly Clean the Machine: It is important to regularly and thoroughly clean the machine. Disassemble all the parts, soak them and wash them well. Make sure to remove all the ice and clean the ice basket thoroughly. By following these steps, you can ensure proper maintenance and optimal performance of the machine.
To effectively descale, ensure to use of cleaning chemicals that are approved by the manufacturer. Alternatively, you can opt for safer and homemade cleaning solutions by combining vinegar or lemon juice with baking soda. These options are both safe and effective for cleaning purposes.
How should you proceed if the ice maker fails to produce ice even after cleaning?
If the ice maker fails to produce ice after a cleaning session, it is possible that some of the components were not reinstalled correctly. Refer to the user manual for instructions on how to clean a portable ice maker, including disassembling the parts for cleaning, reassembling them, and troubleshooting any problems that may arise. If you are unable to resolve the issue, consider seeking assistance from a service professional or a handyman.
Video How to Clean the Igloo Automatic Self-Cleaning Portable Electric Countertop Ice Maker
Don't know how to clean countertop ice maker looks like? Watch the following video for a demonstration of how to clean Igloo's Automatic Self-Cleaning Portable Electric Countertop Ice Maker.
Final Thoughts
In conclusion, learning how to clean a countertop ice maker is an essential step in maintaining the longevity and functionality of your machine. Regular cleaning can prevent issues such as scale build-up and bacterial growth, ensuring that you always have high-quality, safe ice at your disposal.
By following the detailed steps provided in this guide, you can ensure that your countertop ice maker is always in the best possible condition. However, should you encounter any problems even after a thorough cleaning, do not hesitate to consult a professional. Remember, maintenance is key when it comes to appliances, and your ice maker is no exception. Happy cleaning!