How to Clean Guitar Strings? Do you want to know two easy methods how to clean guitar strings? Cleaning the strings on your guitar is a delicate matter. Dirty strings can negatively impact their longevity and the quality of music they produce—why it becomes important to know how to clean guitar strings.
It's easy to imagine how guitar strings become dirty since they are in direct contact with possible dirty and grease fingers all the time. Proper care and maintenance should be provided if you wish to keep your guitar strings in top shape. Part of that care, of course, includes knowing how to clean guitar strings.
As intimidating as it may sound, cleaning your guitar strings doesn't need to be difficult once you make a habit of it. However, the proper steps and the right tools should be employed. To help you in the right direction, find below everything you need to know about cleaning guitar strips, the right tools, and more valuable tips.
How to Clean Guitar Strings
These are two of the best and most easy methods you can try to clean your guitar's strings:
Boiling water
Remove strings from your guitar and coil them up
Boil water in a small saucepan
With tongs, gently place coiled strings in the boiling water for 3-5 minutes.
Remove from heat and then remove the strings from the pan with tongs or a strainer.
Place them on a towel and get them as dry as you possibly can
Dish soap
Mix one cup of warm water with one drop of dish soap
Dip a cloth in the mixture and wring as much water out of the cloth as possible
Wipe each string several times
With a different clean cloth, dip in straight warm water (no soap), wring out as much water as possible, and repeat to remove any soap residue.
With a third clean, dry cloth, dry the string extensively (and fretboard if you did not remove the strings)
Recommended Product
Mrs. Meyer's Clean Day liquid dish soaps are specifically made to make grease disappear while also providing a unique, singular scent for your entire home.
This biodegradable dish soap cuts through grease yet is gentle enough to handwash dishes, pots, and pans.
The dishwashing liquid contains plant-derived cleaning ingredients that keep dishes clean and bright—made without parabens, phthalates, or animal-derived ingredients, and always a cruelty-free dish soap.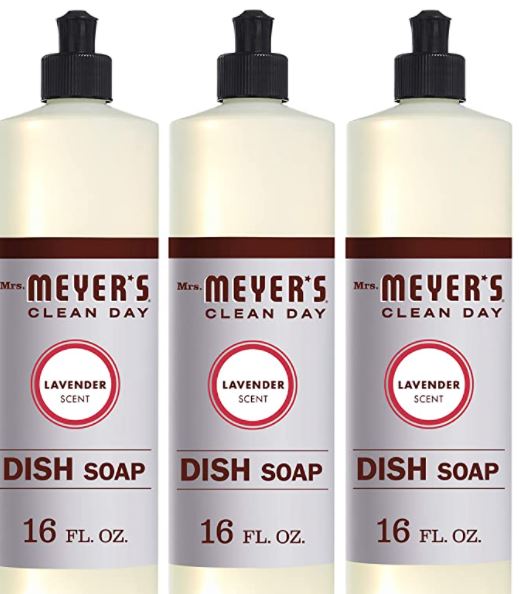 Features:
Biodegradable
Cruelty-free formula
Liquid
---
Common Questions Regarding How to Clean Guitar Strings
What household items can you use to clean guitar strings?
There are a small number of household items that you can use to clean your guitar strings, including boiling water, water with dish soap, isopropyl alcohol, and Windex.
Can I use alcohol wipes to clean my guitar strings?
Rubbing alcohol or isopropyl alcohol is a great cleaning product, but it is not recommended for cleaning guitar strings. While rubbing alcohol will do a great job at removing grime from your guitar strings, it can potentially damage your fretboard.
Rubbing alcohol is a strong/harsh cleaning agent that will dehydrate wood if it comes into contact with the fingerboard. If you rub it on your strings, some of it will reach the wood as you press down the strings.
How do you get the grime off guitar strings?
It is highly recommended to use a clamp-style cleaner. This gadget is a life-free felt cloth in a plastic clamp-like device that can be clipped onto the guitar strings to clean them. This design makes it super easy to clean every part of the string with minimal effort. The handle is easy to grip, and you can dismantle the cleaner and remove the fabric to wash/clean it.
The design and the handle make it easy to operate. It also cleans some of the fretboard gunk as you clean the strings and prevents long-term grime buildup.
Recommended Product
Caline guitar string cleaner can keep the guitar strings clean and increase their lifespan. Cleans all-round the strings, frets.
They can also simultaneously preserve the guitar strings' tone while maintaining the original style.
Caline guitar string cleaner with dual sides is made of durable microfiber material.
Caline Fingerboard Cleaning Cloth is portable and easy to use. Convenient for carrying out with your guitar. You can use Caline guitar bass string cleaner anywhere.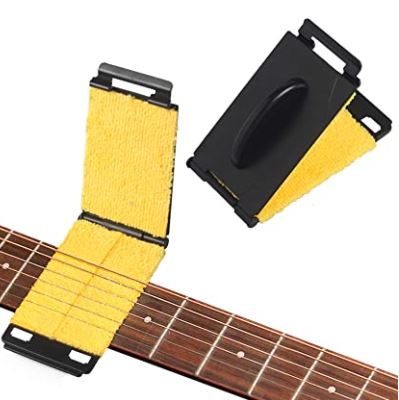 Features:
Quality Material
Easy to carry
---
What is the best way to clean guitar strings?
Microfiber cloths are ideal for cleaning guitar strings since they do not leave a residue or lint material. In addition to wiping the instrument down, wash your hands regularly to remove excess oil and residue (or grease, sauce, etc.).
First, pinch a string into the cloth. Be sure you have a secure grip and pull up slightly.
Rub the entire length of the string 2-3 times. Do this one string at a time until you've done all strings.
Next, flatten the washcloth and slip it under all six strings.
Slide it up and down the neck, from the bridge to the nut, 2-3 times.
Now, carefully remove the washcloth from under the strings and take this opportunity to spot-clean any areas on the fretboard that are especially dirty.
Lastly, give the back of the neck a good rub from the headstock to the body 2-3 times.
Recommended Product
The soft, non-abrasive cleaning cloth will not scratch items, nor will it scrape paint, coatings, or other surfaces.
It can capture tiny dust and particles without leaving streaks, allowing you to find the fun of doing housework.
These microfiber towels feature high-quality stitching with reinforced edges that will not unravel; they are durable and made to last hundreds of washings.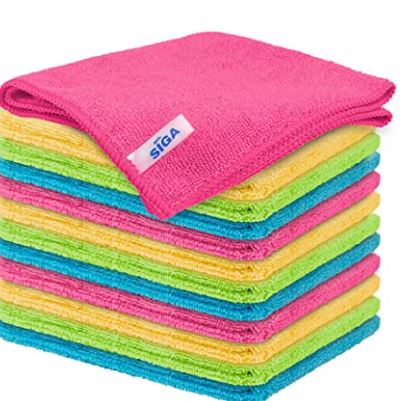 Features:
Lightweight
Absorbent
Dries quickly
---
What can I use to lubricate guitar strings?
Once your strings are clean, lubricate them using a string rust remover, which comes with a felt-tip with lubricating oil that acts as a string cleaner/lubricator.
The lubrication is essential for reducing friction to eliminate 'fret buzz.' It is commonly used by metal guitarists, shredders, or other musicians who enjoy fast-n-frenzied playing.
If you need something cheap and readily available, you can try olive oil, baby oil, or Vaseline. If using one of such products, apply pressure to both sides of the strings using your fingers. When done correctly, the strings should end up looking noticeably shinier. They should also be oily and smooth to the touch.
Recommended Product
Applicable to guitar, cello, violin in hand, zither, piano, and other stringed instruments. The shell is made of high-quality plastic, durable, and not easy to damage.
Double-headed design, two kinds of functions, not only can de-rusting for strings, but the felt brush head with lubricating oil can also be antirust.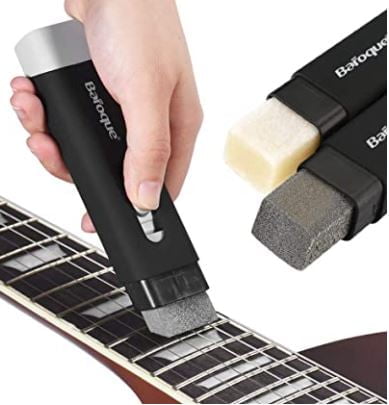 After use, the strings feel will become smooth and incomparable, suitable for your feel.
Features:
Dual-head
Lightweight
Easy store
---
What are guitar strings made of?
Knowing what type of strings your guitar has will help you in how you must care for them.
A non-dampened towel or one slightly dampened with water will suffice for a guitar with nylon strings.
For guitars with steel strings, there are guitar string cleaners that are manufactured.
For guitars that use nylon strings, lubricating your strings is unnecessary. Nylon strings are already corrosion-resistant.
However, if you have a guitar with steel strings, you'll want to use some lubricant to keep them from getting sticky, dirty, and corroded. You can check the product packaging for the strings; you have to find out what they're made of.
Do I have to clean the strings on my acoustic guitar?
No matter what type of guitar you're playing, you should perform some of your strings. This is especially true for your acoustic guitars as if you don't take care of the strings on your acoustic guitar, the amount of stress that dirty strings place on your guitar can cause cracking in the finish between the bridge ad the end of the body of your guitar.
The best way to ensure the longevity of your acoustic guitar is to clean your guitar strings.
Additional Tips on How to Clean Guitar Strings
Get into the habit of washing your hands using soap before you start playing your guitar. It will remove most of the oil and dirt, which would otherwise stick or get transferred to your fretboard and strings.
The oils can be cleaned periodically, but they will degrade the string quality in the meantime. To avoid this, it's best to wipe your strings with a cloth after every practice session.
You never want to apply the lubricant directly to the strings as there is a good chance you'll get excess grease on the fretboard, which will be challenging to clean up.